Staff "Backpackers" spend time with the Screamfree Institute at The Calm & Connected Couples Retreat
Reynolds Plantation, Greensboro, Georgia
Digital storytelling is one of the A Backpack Journalist' modules.  Our website links to our YOUTUBE channel where we keep our short stories on line.  We also have had many military public affairs teams follow us about when our military kids are fast at work, and these digital stories can be found on DVIDS.
A request came in from Jon Kaplan, Managing Director of the ScreamFree Institute.  Would we like to join them for a first ever – Calm & Connected Couples Retreat and help film archive the activities of the weekend.  Basically, help tell their story via a short documentary? (A Backpack Journalist style)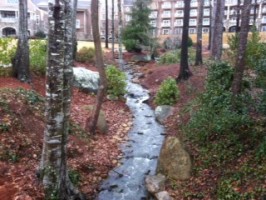 The location is one of the most beautiful resorts in the south:  The Reynolds Plantation.  So off we went with trunks filled with our equipment needed.  And, we are so glad we went.
The Screamfree Institute provided this event from start to finish at no charge for 40 military couples.  There was a selection process in that each couple had to submit a request and answer a few of the pre-interview questions.  The event was extremely well organized with an agenda that included Hal Runkel, founder and licensed marriage family therapist, presenting "The 6 Principles for a Screamfree Marriage" in  general sessions.  There was also one on one coaching sessions with each couple meeting with a Screamfree Institute Coach (LMFT) and a special entertainment night featuring Alex McHale, a New York based comedian.  Hal and Alex were on stage together also to offer up a Q&A with questions from the audience (the military couples).  Lots of great food everywhere, and during the free time, golf, the spa and even a chocolate cooking lesson.  There was also sessions for YOGA and hikes all over the property.
So, we were there to capture it all on film.  We did.  In total there was about 7 hours of film and now organized into a time code outline to begin the work for the documentary.
As we worked to make sure we filmed it all, we learned alot along the way.  We learned how to turn a common conflict into a positive connection.  We heard the word – "representing ourselves" alot, and also smiled when the life examples shared by Hal sounded so familiar.
There is lots more and we hope to be able to post soon on line some of the film!
In the meantime – checkout:  www.screamfree.com