Hootie and the Blowfish' – Homegrown Roundup! Giving back to the children of Charleston, South Carolina!
"the boys want to help take care of education in South Carolina!"
Saturday, August 8, 2014
Charleston, South Carolina
South Carolina – is known for the cultivation of it's lands and coastline for fresh vegetables and seafood! Nothing like a South Carolina tomato, and shrimp from the boats coming in from McClellanville!
The Homegrown Roundup, held at Burke High School, in Charleston, South Carolina gave new meaning to "cultivating" and provided health and well-being assistance and educational support for the upcoming school year for the under privileged children! The "brains" behind this effort? "The boys and their music" who are from South Carolina and want to give back.
Ever heard of Hootie and the Blowfish?
The weekend kicked off with a concert on Daniel Island, Family Circle Stadium, and continued today at Burke High School. More music during the day also and tonight as well! But let's talk about the Homegrown Roundup! That's our love -education, and the "boys" did it right!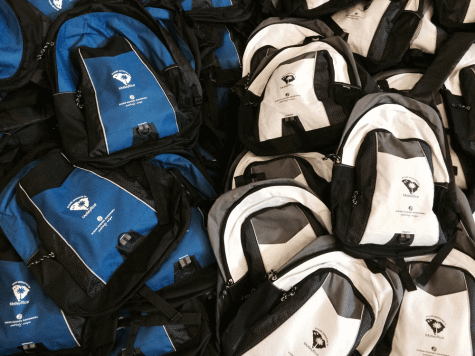 Some of the pictures on our facebook page and here featured,  the activity at Burke High School, and the local businesses who came together with lots of school supplies, including a backpack! To complete the experience, a quick dental and eye check, a haircut and a pair of shoes!
All prepared for 850 children, and they came!
The inspiration and support for this event comes right from the "boys" – Hootie and the Blowfish, who wish to give back to their community of Charleston, South Carolina, and to support education!
The "Boys" dropped in and visited the children, took time and signed autographs, and thanked the businesses for supporting the event!
The business who came together to distribute over 850 items of various school supplies to the children, and feed the volunteers who worked!  First it was Sticky Fingers Charleston, SC for the great kick off  lunch!
Motley Rice (Backpackpacks), ECM (Bookmarks), Charleston County Public Library (Bookmarks), The Rotary Club of Charleston (miscellaneous school supplies), Select Health of SC (lots of notebook paper/supplies), Durham Bus Service ( pencils, pens and bus transportation for the children to attend), Psyclinc (glue sticks), Southwest Airlines(lots of supplies), Orvins Furniture (misc school supplies), Hendrick Hyundai (composition books), Apex Broadcasting (Media partner), Citadel Mall(Composition books), Wilson Exterminating (glue sticks), Palmetto School of Careers (rulers and folders), Spirit Communication (sponsor), Jeff Cook Real Estate (Crayons), Stella Nova (pencils and tops), Kids Teeth/Low Country Dental Associates and Sewee Dental (exams!), Low Country Vision (eye screening exams), Profile Academy Beauty (haircuts), Bishop England High School (shoe shop area – shows from DAWGS), Children's Museum of the Lowcountry (craft project), ECM (craft project), PCG Educational Partners (tshirts), Channel 5 (great coverage by Paisley), and to Paul Graham (Empire Sports Management – for the event planning and helping the "boys" realize their dreams and support for the education of children.)
Kudos to this terrific group of young men, all who met while at USC in Columbia, for their great music we have all come to love, and for this Home Grown Round Up!
Like we said earlier – this type of event provides our world with a perfect example of how powerful giving back can be – cultivating the positive and well being in our children, and encouraging them to stay in school and seek their education!.
www.facebook.com/backpackjournalist
FOR MORE PHOTOs
https://www.flickr.com/photos/[email protected]/sets/72157645904045789/