SEWE brings Colorado Wildlife Artist to Charleston, SC
SEWE brings Colorado Wildlife Artist to Charleston, SC
February 15, 2015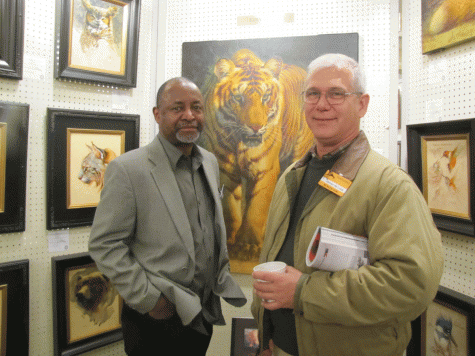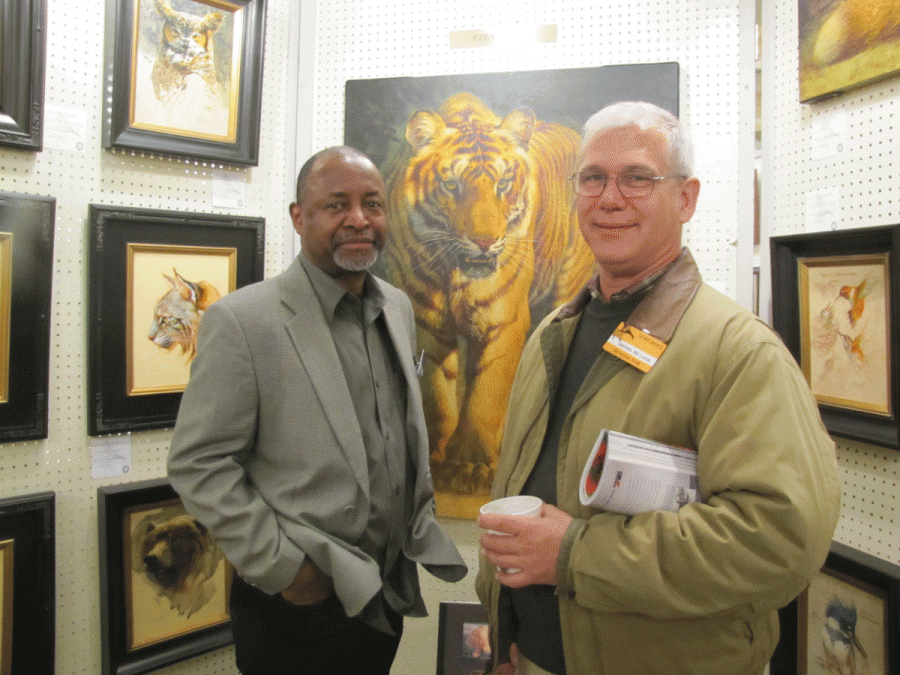 A chance meeting in the Charleston Place introduced to A Backpack Journalist an artist whose name was quite familiar to us, as we have visited often the Booth Western Art Museum, Cartersville, Georgia, where two of his paintings are on display in their permanent collection.
Ezra Tucker, Monument, Colorado, brought to the SEWE Artist Exhibit his incredible ability to draw and paint in an individual style that captures an animal's essence and found in his wildlife paintings and drawings.    While standing and viewing his art on display, visitors could be heard commenting, smiling and moving in closer to view the paintings.  All were in awe, as we were.
His life's work in art ranges from illustrations, first beginning at the Hallmark Corporation right out of Memphis Art School,   to major advertising campaigns for US corporations and Hollywood's movie studios.  And, then there are years of painting and drawing fine animal wildlife, that has earned him awards, exhibitions and a life that he dreamed of as a young boy.
First, Ezra is a black man.  And, according to Ezra, many "are surprised to find out I am black".
He is the next to youngest of 6 children of a Memphis, Tennessee farmer and Pentecostal Minister.  "Growing up, we were not rich!"   Ezra as a young boy spent time visiting family farms where animals were present and watching television as well, especially Mutual of Omaha commercials, where the wildlife ran free!  He became intrigued with wildlife, then encouraged by his family members as they found instruction books that helped Ezra, by the age of 12, understand the complexity of drawing the animal.  That's when he made the decision to focus on being a wildlife artist.
Describing living with a father, a farmer and minister, and kind and loving mother, Ezra was often helping his family, feed and clothe the white and black poor, in their Memphis community.   Thus, early in his life, his parents had not programmed him to think of the color of the skin as having to do with being a human being, "they did not program me that way!"
Ezra grew up when Memphis had white and black areas of town, and attended a high school, that was often visited by the white art teachers from the other side of town. Ezra referred to these teachers as "blended teachers".
Early on, his talent was recognized by one of the visiting white teachers, and he was encouraged to pursue his talent in Art.  On the other hand, his father wanted Ezra to go to college to "earn a living", and as a young man, Ezra often heard his Father say to him:  "This country already has a path set for you.  You are a black man in America."  It was not until Ezra was in his 30's that he understood what his father was saying to him.   Racism.
As he graduated from high school with honors, he was encouraged to go to art school, and Memphis had one "across town".  His father agreed to help pay for this school, as long as Ezra worked also to raise the funds to pay for his Art School.  Smiling, Ezra remembered fondly his long days and nights as he worked at Federal Express, Burger Chef, and Holiday Inn and even washed dishes at Ponchos restaurant.
In fall of 1976, Hallmark came to the school, and in May of 1977, he was recruited to work for Hallmark, where he remained for 5 years.  What came next, took a lot of courage and determination and risk. Ezra went out on his own.
Moving west, his illustrations (drawings) were sought by advertising agencies, movie studios and major US corporations.  At one time he had 5 agents representing his illustrations as he created hand painted art for movie posters for Disney, Warner Brothers, 20th Century Fox, Lucas Films and Disney.  Imagine a "Tucker" drawn Dinosaur!  We especially love the Anheuser Busch Clydesdales, and these amazing horses have often been the subjects of Ezra's pen and brush!
Ezra asked of us when hearing about the A Backpack Journalist program asked: "how do you teach courage?"   Ezra certainly had courage when he left Hallmark to go "freelance".
While thinking to offer an answer, Ezra went on to share with us some of his personal beliefs that has helped him realize his dreams as a young boy and to pursue his talent.  From his personal beliefs, we must agree that courage is a by-product, and easily gained following Ezra's commentary and advice.
You are unique as a person.
Use your brain; focus on being good at what you do.
Education is important.
Commit, with passion.
Expect long hours to achieve your success.
Be different and do not be afraid to be so.
Don't be afraid of the world.
Do not be distracted by the complexion of your skin or others around you.
Act and behave in a moral way.
Reflecting back over our meeting with Ezra, we are most fortunate to have spent time with him, but also to learn how he has lived his life, not distracted by skin color, and working so that his talent could be realized and shared with all of us.  Thank you,  Ezra Tucker!
SEWE  (Southeastern Wildlife Exposition) is an annual event in Charleston, South Carolina, and this was Ezra's Tucker first visit.  We hope he returns.
Please visit www.ezratuckercom to view his collections and paintings.