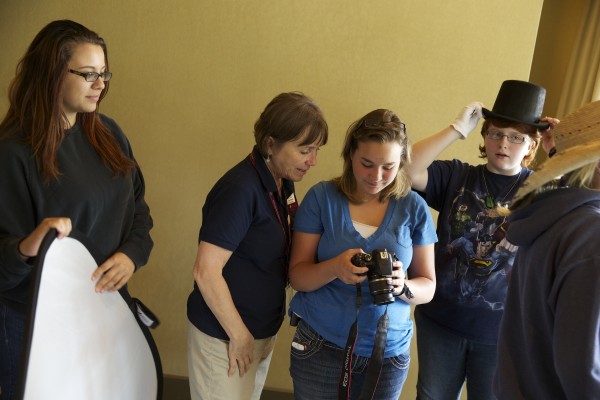 ATLANTA, GEORGIA
August 14, 2013
We have been asked often – what do you compete with at A Backpack Journalist workshop?  We have a simple response:  the swimming pool usually.
Nothing like a swimming pool nearby to distract a group of youth from participating in what they think is "just like school".   That was the case in Welches, Oregon last week.
However, as we begin our workshop, the youth are advised: (1) Backpack Journalist is not like school (2) We are not here to teach you about commas and paragraphs and spelling, that comes after you write (3) No, don't go telling your English teachers that your writing class at the workshop told you that!  We are all about helping you find your "voice"!
Recently, a member of the Chicago JROTC Command sat down with us at Cantigny and shared his concern that our name – "Backpack Journalist" sounded to much like a school and maybe we should change our name!  He sat through a day of our workshop there, and was totally "amazed" (his words) by the teaching method "Backpack" uses and the amount of photography experience that each young person received.  (Thanks to Hammond, Stacey, Julie, Sean and Jerome – and Rachel)  Especially, hanging out with Julie (AP photographer with years of experience in the field, that included embedding with the troops overseas).
So back to Oregon.  It took a thunderstorm and lots of lightning to get the pool closed, but that was after each youth was into the readings of the writings of their peers sharing their special moments.  Then we put a camera in their hand, and quick lessons in how to  capture a moment through the lens. Bring in a few hats of all kinds – from Cowboy to a Ship's Captain or perhaps a Top Hat?  Lots of smiles are seen in the outtakes!  So we like to think that the youth taking the picture, and the youth in front of the camera, both enjoyed the experience and did find their "self" in the process.  One youth is feeling a sense of accomplishment, and the other seeing themselves in a new expressive light.  And, it's all captured in the images.
What did the youth write about?  It ranged from very personal moments, to several light hearted best friend stories.  Many are being posted now in the New Work by Military Youth on our website. Many stood before their peers and the leadership and read their work; however, all participated and their writing poignant.
At closing, after Hammond has finished introducing the youth who were presenting their written work, I looked over to Tom, our Oregonian found photographer.  He was leaning back in his chair, eyes were big and he looked shaken.
"Well, I had thought I would sit here and plan out what I was going to say…but wow!"
So as he stood up to present some of his "Selects" – the photographs that the youth had taken that he felt best captured the "real person" his comment was:
"Well, I am overwhelmed.  This was such an emotional experience for me!".
I too, had to take a moment to collect myself to continue closing out the presentation.  Why I thought do you not just write it down BEFORE the youth begin to share their writings?  Then, you can read it – so that when the emotion takes you over, you will not forget anything?
We have provided many workshops and met many youth.  We have watched and listened as each who decided to stand before their peers and often the senior leadership, have read out loud their heartfelt words to share a moment in their life.  We have participated and helped each youth go from a novice user of a digital camera to understanding that it's not just the camera working, it is their own understanding of finding the moment, looking into the eyes of their subject, and then taking the picture!  Capturing the spirit of their subject and who they are as a person!
We connect with each, and then we have to leave and return to our homes hoping that we have made a difference in each of their lives and thankful to have been apart of their sharing of their voices – in word or image. Their own sharing has changed us, and for the better.
Thus, each workshop requires a day off following.  For us to take a deep breath and get centered again.
Tom, our Oregonian photographer and  Michael, also from Oregon, both were new at this workshop to our program.   (Each experienced educational and business professionals). Both commented how the entire  Backpack Journalist process had impacted their lives – from the "wow" factor to exhaustion from their participation with the youth and the teaching to the sharing.  (I personally think they were both a bit shocked at how they were affected – ie the emotion!)
The Backpack Journalist process makes a difference in our lives – and often the youth that we work with are not aware of this.  This difference comes from our seeing the change in how each youth finds their creative voice and the use of the camera to confirming their own self esteem in becoming "real".  It's emotional, and next time, I will have a closing presentation written down.
So perhaps we should name our workshops?  Finding a "real" Backpack Journalist?  Or?  All suggestions are appreciated.