About Us
" A Backpack Journalist ™ helps youth find their "VOICE"
Building Resiliency through Creative Expression!  Creating the Citizen Journalist of the future!
Now adding PANTOMIME as a communication tool! 
Many assume Pantomime is only a theatrical endeavor.  Read all about it here!Here at A Backpack Journalist, under the direction of Linda Dennis, with the theatrical support of Hester Kamin at Synetic Theatre, in Arlington, Virginia, we have been able to integrate the use of Pantomime to communicate and create stories!
These stories include literary greats such as TALL TALES, Classics fom days gone by, going live in a neighborhood by creating a playground with a tug of war, going to kitchen baking cookies and living outside even sailing on a pirate ship.
Students practice learning the movements and sequences to create the story without speaking.  As the story unfolds in silence, students gain self-awareness and a confidence in their own ability to communicate. NO words spoken.  Another interesting outcome is the amount of exercise that each student completes by practicing the movements.  Pantomime "moves"!
PLUS – we are so inspired by the comedic humor of Charlie Chaplin and love the ability to add the "gags" along with the stories!  Goal is to always add in a funny!
Check out "In search of a Chocolate Covered Strawberry!".  MINI MIMES visited Sweet Juleps with raw strawberries, with one end of the berry- cut open.  Alas – the gag was to try and fill that end of the strawberry with "Chocolate".
Bonus:  we use IPads to help create the scripts/storyboards and a final filming of each Pantomime – Story Performance.
Our performances are offered free – in a POP-UP.  What's a POP-UP – often held outside in a courtyard, a closed street area or parking lot!
Research based:
The teen demographic is faced with multiple challenges that range from growing up, to academic and peer pressure issues.  At risk youth face these issues, plus economic and often living in a one-parent household.   Military youth issues are intensified due to deployments and reintegration and in general, the military family lifestyle.
A Backpack Journalist provides documentary photography, storytelling, collection of oral histories, and real world journalism experiences for students throughout the lowcountry. Youth, ranging from elementary to middle to high school, experience Scholastic Journalism curriculum after school and Saturday, and then during a "Cover the Assignment".  "Backpacks'" assignments have included gathering the story of Larry Doby, American League African American Player in 1947 to break the color line, to Life on Johns Island during the Civil Rights era, and attending and reporting on public events in the lowcountry.  Team Backpack Journalist publish via Social Media applications, short films, and Theatrical Plays supported by printed books on topics. Recently, emphasis on documentary photography and filmmaking, have expanded the assignments to include the important contributions of American photographers such as Leonard Freed.  Supporting the Gullah Society in this endeavor has offered the "backpackers" expanded opportunities to participate in "Community Conversations" and to expand our team's education and arts education.
www.abackpackjournalist.com
facebook.com/backpackjournalist
@backpackjrnlist
 info@abackpackjournalist or [email protected]
*******************************************************************
At A Backpack Journalist ("backpack"), we refer to the successful journey through self-expression as  "finding of one's voice".  We believe that self-expression is key to developing one's own confidence, and in getting to know your self.   We believe also, that once found, this "Voice" forms the necessary foundation for a resilient life and allows the youth to grow forward in a more happy and well-adjusted manner.
"Backpack", originally was created for 12-17 year olds, has also served younger children via a hands on experience and our "About me – Little Backpackers curriculum" .
"Backpack" has been used by FFA (What's Your Story!"),  Brandon Hall School (Cowboy Poetry), National Parks (Florissant Fossil Beds National Monument), Cantigny Park (First Division Museum, Freedom Express), National Guard Youth Programs – Youth Symposium, Yellow Ribbon Events (North Carolina, Texas, Colorado, Iowa) US Army Reserve Child and Youth (ARTP)  and at Ft. Campbell Kentucky (MWR) and National Guard Youth Programs – Symposiums (Kentucky, Iowa, Kansas, Texas, Oregon, Arizona, Florida).  "Backpack" movies provide an intimate inside view of the curricula at workshops, Cover the Assignment events and teens at work, displaying positive outcomes of their own resilience.  These movies can be found on our You Tube Channel, and also via DoD links (Yellow Ribbon Events).
During the 2014-2015 school year, A Backpack Journalist was a partner to the Charleston Promise Neighborhood, Sanders Clyde School, and worked in the expanded day program for elementary school students, and at Burke Middle High School with middle to high school/Downtown Community Center/21st Century After School.
Both programs were PILOTS, and continued forward with our modified,  expanded lesson plans on "Cover the Assignment", "What's your Story",  and TEAMBACKPACKJOURNALISTS  (www.teambackpackjournalists.com – under construction) in various schools in the Charleston County School District.  A book – Baseball, The RiverDogs and the Life of Larry Doby was one of the outcomes of the school year.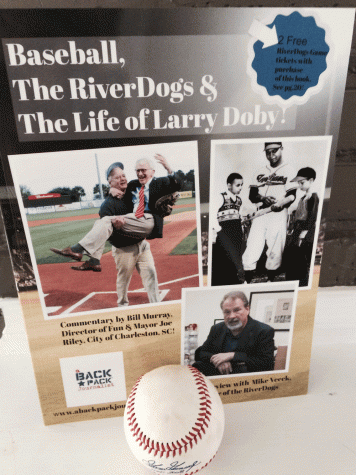 This book includes a lesson plan/thematic unit for teachers, aligned with Social Studies standards for South Carolina and other states.
In the 2015-2016 School year, we supported a STEAM project in a partnership with Hendrick Automotive, and developed a series of lesson plans and a book focused on Cars & Parts for the elementary school demographic.  Sanders Clyde School was chosen as the pilot site and also St. Julian Devine, the City of Charleston, Recreation Department.
In 2017, we created a short film on the SC Ports Authority, the ports that connect.  It is available on our YOUTUBE CHANNEL
"Team Backpack Journalists" classes are now offered throughout the Charleston area at schools.
Afterschool programming included Cars & Parts, a STEM based program, and multiple Cover the Assignments through our Photography and Writing curriculum.  Our community partnerships are key to the success of our programming.
=================================================
A Backpack Journalist curricula has at it's foundation Writing.  Photography, Song writing, Digital Storytelling/Film making, and Cowboy Poetry complete the module selection.  A typical workshop will combine two of the modules.  There is also a "Little Backpackers" for 6-11.
"Real World Experiences"
Our goal is to also offer "REAL WORLD" experiences for youth who attend our program and workshops as observers and reporters:
A Backpack Journalist has supported the following national "REAL WORLD" events:
NGB Youth Symposium (New Orleans – 2010)
NGAUS (Austin, Texas – 2010)
CNN/HLN January 2011
NGB Volunteer Symposium & USO HOMEFRONT EVENT
AUSA (Washington, DC 2011 & 2012 & 2013)
DCOE  (Washington, DC 2012) – Release of our first MUSIC VIDEO – PTSD WON'T STOP ME
GI FILM FESTIVAL (Washington, DC 2012 & 2013 & 2014)
Warrior Film Works – new partnershi
Senior Leadership Conference & Change of Command, US ARMY RESERVES (June, 2012)
Washington, DC – Pentagon, White House, Army Ten Miler, AUSA
Working the Hill – 2013 & Visiting The Heritage Foundation/briefings
Vietnam Veterans THE EDUCATION CENTER Groundbreaking
Month of the Military Child – 2013 – "Free" website for projects for use
4H – National Conference – April 2013 (Grantee – 4H)
Walter Reed Military Hospital – 2nd Annual Military Health Continuum for the Arts and Well-being (Grantee/Global Art National Initiative).
Points of Light Conference, Washington, DC
Chicago – Cantigny Park – First Division Museum – Short Documentary (Grantee of the McCormick Foundation/AUSA)
Colorado – Florissant National Park, Grant from the National Park Service.  Nature Storytelling.
New Hampshire – National Guard/University of New Hampshire – Extension Division/4H/Operation Military Kids (Collecting the stories of New Hampshire – New England Veterans.
Oregon National Guard, Youth Symposium, Mt. Hood, Oregon
Colorado National Guard, Yellow Ribbon Event, Denver, Colorado
Association of United States Army, Washington, DC – Family Forum
Future Farmers of America, FFA, Louisville, Kentucky – What's your story? & Cowboy Poetry. (multiple years)
Calvin Center – A Cowboy Salute for Military Families!
Golden Corral – Veterans Day Events 2013-2014-2015
Cyber Defense – US Air Force Association – 2013-2014
ABC, Channel 4 – Low Country Live – presentation of pilot program with the CCSD.
ABC Channel 4 – Low Country Live – Amir Wells & Linda Dennis (Book on Baseball and Larry Doby)
First Day Festival – partner with the YWCA, and supported their campaign to end racism.2015-2016
SC Council on Social Studies – Baseball, The RiverDogs, and the Life of Larry Doby
Florida National Guard, Youth Symposium
SC Military Museum – Veteran's Day, 2016  ('In their own words, Oral Histories of SC Vietnam Veterans)
Richland One Social Studies teachers – TPD, 2016 – 2017
First day, Charleston, SC.
"Ain't you got the right to the Tree of Life" – Piccolo, 2017
Film Fest – 2018 – "off broadway" performance
2020 – 2021- Pandemic happened!
2021-2022 – MINI MIMES performances – at Sandpiper Independent Living and Charleston Christmas Parade and Mt. Pleasant, SC.
Our military family service:
We have served: US Army Reserves, Child & Youth & School Services (Crystal City, Virginia), Texas Military Forces Yellow Ribbon Program (Camp Mabry, Texas), National Guard Bureau Joint Family Programs –Youth Symposium, 2010, New Orleans, Louisiana (Washington, DC). National Guard of United States (NGAUS) and National Guard Association of Texas (NGAT) – Austin, Texas 2010 and AUSA – Washington, DC October 2011.  National Guard Family Programs:  Kansas, Kentucky, Maine, NC (Air Guard), Iowa (AG), Arizona, Texas.
Charleston, SC – Afterschool – Via Charleston Promise Neighborhood, Engaging Creative Minds and within Charleston County School District – after school enrichment.
HOW WE BEGAN:
Linda Dennis, program manager and volunteer, was working with a child at a family day at Ft.Bragg, North Carolina in 2008.  The child, 8 years old, was making a greeting card to be sent to his deployed father. His older brother stepped up to the table, but did not want to make a card. When asked if he would like to write his Dad a letter, the youth commented, "I don't know how!". After spending a few minutes with the youth, and encouraging him to simply write two words: "thank-you", what came next to all those present, was the clear realization that the children of deployed service members(including all ages of youth) could be struggling with expressing themselves. The struggle that was observed was a mix of  feelings ranging from "guilt to pride".  The youth was afraid to burden their parent with the knowledge of how much they missed them, to being thankful for such a brave parent.  Worse, the youth did not know how to write!
(Data later confirmed this from the RAND CORPORATION: Views from the Home front: http://www.rand.org/pubs/research_briefs/RB9568.html)
From that day forward, research went underway to determine what types of "writing-expression programs" were available to support military youth who had parents deployed, and or considered at-risk.   Schools/educators offered English, but somehow the creative element was often left out due to the requirement of meeting the test scores at the district level.  Also, the programs developed to support youth of deployed service members did not include the writing or a self-expression component.
Build Resilience through Creative Expression became therefore the mission of A Backpack Journalist, and the teaching methods and teachers were found quickly, and often by chance, via a national network of Journalism teachers and business professionals at summer camps and workshops.
Each teacher expressed a sense of caring, and a "servant's heart" as all worked together in unison.
Think of "A Backpack Journalist"  as follows:
All the electronic tools one needs to express one's self can fit into a backpack.
Teens of today are NATIVES to technology and love using the gadgets/computers,etc.
We engage youth with the technology components, and use of the MAC and then combine the educational values.
All the stresses of life often are found piled up on our backs and weigh our hearts down – "thus backpack".
Creative Expression is a comfortable journey. It's a safe way for children of all ages to go and find their "voice".
And, eureka! Writing is easy, fun and educational.  Writing is the foundation for all of the modules of A Backpack Journalist.  Can one imagine a career that does not require writing?
So if the youth thinks that they cannot "write".  Ok.   Then what about lyrics for a song?  Asking questions that can be  assembled into an interview for a broadcast or composing a Cowboy Poem?   Or perhaps, taking the lens of a camera and telling a story, and finding the soul of a person?
That's A Backpack Journalist!
Now, onto – Cover the Assignment!  It's "real-world" experiences, credentialing as press!  Nothing like meeting face to face policy makers and people in our world who are making a difference!  Stay tuned as our "backpackers" move forward.  To participate with us, the young person must have participated in a workshop and shown an aptitude towards our overall mission!  Plus be willing to often volunteer and work hard and on the go!
__________________________________________________________________________
Our background:
A Backpack Journalist, LLC was formed in Austin, Texas, January 2010 following a year of successful pilot tests and support from the Texas National Guard Youth Council and the National Guard of Texas Military Family Support Foundation (Ray Lindner and staff).  Note throughout 2008-2009 the pilot tests were ongoing.
With the genius of David Knight, lead writing teacher, who engages, entertains and educates youth all at once, and Mike McLean, a photojournalist who teaches how to take the camera lens into the soul of a person, and with the energy and total commitment of Linda Dennis, a writer and teacher and creative soul/communicator, also, – A Backpack Journalist moved forward, with a pilot showing positive results. (Review by Dr. Frederic J. Medway available.)
NOTE:  due to the drawdown and the cut in funding for military family programs in 2012-2013, the company ceased in service, and we moved back "home", and found an opening within the after-school programming in our local school district, in a pilot programming for younger students
Editorial offices today are in Charleston, South Carolina. The entire curriculum of A Backpack Journalist is being offered as Supplemental Curriculum in elementary, middle to high schools to reach all youth populations in the after school time frame.
The curriculum editor: Bobby Hawthorne, author of THE RADICAL WRITE, and former University of Texas professor and head of the Intramural School. Today, Bobby is "retired" , teaches writing around the world, and writes for numerous magazines and publications.
A Backpack Journalist also supports volunteer and staff training, providing "pay it forward or force multiply" and customized curriculum.  Broadcast journalism with public speaking is a proven outcome.

National Guard of Texas Military Family Support Foundation
provided financial support for the pilot test for which we are grateful.
BOARD OF DIRECTORS:  
 Mr. Rick Kiernan was born in Brooklyn, New York. He attended The Virginia Military Institute where he received a Bachelor of Arts Degree in English and a Commission as a Second Lieutenant in the United States Army. Kiernan served twenty-six years as an Infantry officer, retiring as a full Colonel in 1993. During his military career he served in Germany, Vietnam, Alaska, Hawaii and Saudi Arabia .In 1991, he led the last military delegation to the former Soviet Union to assist that nation in its Public Affairs and Media Relations programs. Colonel Kiernan is a Paratrooper who received two Bronze Stars in combat, three awards of the Legion of Merit for achievement and numerous commendations for service from the U.S. government as well as the Republic of South Vietnam, Kuwait and the Kingdom of Saudi Arabia.
 As a Public Affairs Officer, he has been the Managing Editor of three Newspapers, Host of a Public Television show, Editor-in-Chief of a monthly Magazine and Chief Pentagon Spokesman for the U. S. Army during Operation Just Cause in Panama and the Gulf War.
Upon his military retirement in 1993, Mr. Kiernan was selected to be the Director of both Press Operations and Public Information for the 1996 Olympic Games in Atlanta.  He  established the Main Press Center for 5,000 journalists from 197 countries who spoke 44 languages. In 1996,Kiernan began his work in Corporate Communications and for 15 years, he served as the Senior Vice President of Strategic Communications for L-3 Services Group and MPRI, a global training corporation.
Mr. Kiernan received a Masters Degree in Mass Communications from the University of South Carolina, where he was selected as Distinguished Alumnus in 2005, and has completed Post Graduate study at The John F. Kennedy School of Government at Harvard University.
Colonel (retired) James Scott, Pangburn, Arkansas is the past Executive Director of the Yellow Ribbon Program and Director, Individual and Family Support Policy, Office of the Assistant Secretary of Defense for Reserve Affairs (Manpower and Personnel) at the Pentagon, Washington DC. He is a past member of the Missouri Army National Guard. Scotty received Bachelor of Arts (1971) and Master of Arts (1972) degrees from Pittsburg State University majoring in Speech with specialties in Theater Arts, Technical Theater and Junior College Education.
In 1987 he was selected to serve as an Assistant Professor of Military Science at the University of Missouri Columbia. In 1990 he was transferred to Washington, DC, to work for the Army National Guard Directorate in a number of manpower and personnel support positions. In 1997 he was selected to work for the Assistant Secretary of Defense for Reserve Affairs where he served until his retirement.
Scotty completed the World Laughter Tour Certified Laughter Leader (CLL) class in September 2002 and the Advanced Class in November of the same year. Shortly after, he was asked to join the CLL Faculty known as the "Poobahs." He enjoys sharing the joys and benefits of laughter with anyone who will listen, but especially military members, their families and their supporters.
Scotty volunteers with A Back Pack Journalist program assisting military youth to find their voice to express their feelings about having a deployed family member, and advises the program manager  on all military matters.
Brian McDowell, Lexington, Kentucky is President of IDV LTD. CO. , Lexington, Kentucky.  Since May 2004, he has been dedicated to sourcing of OEM and ODM products from around the world. This includes the development of a supply chain process that assists in small to medium to large retailers in achieving success in product assortments and reaching and serving the consumer.

Brian is a 30 plus year retailer.  He began his career with Wal-mart and rose through the ranks to manage a store, with 30 plus employees, and then a region.  From Wal-mart he was then brought over to Michaels Stores when the retailer was only 300 plus stores.  Brian rose from a single store manager in California to a District Manager and helped Michaels grow to over 600 stores.  Following this, he moved to Canada and helped establish the Michaels stores across Canada and returned to the United States with the store count reached 15!  

Brian today runs a product development business that provides support for retailers and wholesalers, and advises "backpack" on possible product endorsements and opportunities.
Brian's experience includes his long time volunteer support of the America Supports You Program, and the "Take your children to work day" at the Pentagon Courtyard, and also Andrews Air Force Base. Today he supports the Wounded Warrior Project, and a various other programs that provide emotional and financial support for Veterans.
DP Wilkinson (Denny) Mt. Pleasant, SC  is a retired advertising executive and consultant with a career than spanned over 40 years, working within the International Advertising Markets and Television in product development that included HBO's South American markets.  His influence into television includes the digitized football coverage of the "first down" and the overall televised presentation of the football games. Today, he consults with various start-ups in marketing, and travels extensively.
Dr. Frederic J. Medway – Columbia, South Carolina – ADVISOR/Curriculum.
Dr. Medway is a Professor Emeritus: University of South Carolina, PhD in Social Psychology, University of Connecticut. Adjunct Professor: Department of Pediatrics, University of South Carolina Medical School; Affiliated faculty member: Institute for Families in Society. CREDENTIALS AND CERTIFICATES: Certified School Psychologist, Level III, South Carolina, Nationally Certified School Psychologist, Licensed School Psychologist, South Carolina, and Academy for Leadership Development, 1999 New Dean's Institute.
Medway is the published author in hundreds of articles, books and newsprint. He has appeared on CNN and FOX News when the subject matter relates to military families and the effects of deployment on families.
Program Manager/Founder/Volunteer
Linda Dennis – Charleston, South Carolina
Program Manager/Journaling/Instructional Writing/Filmmaking
Linda Dennis is a published author of instructional technology projects and educational activities for youth.  As editor, then publisher working with Primedia Special Interest Group, she developed the first computer based arts activities for consumers, then computer based lesson plans  and training for teachers.  As a result of her community service, she became known as the "magazine lady"  for inner city at-risk (Columbia, SC)  and military youth at summer camps.
 In 2008, seeing a need to help military youth communicate with their deployed parents, she developed the concept: A Backpack Journalist. Following two years of market research and a pilot test funded by a Texas foundation and with the support of the University of Texas,  with David Knight, a 30-year writing and broadcast journalism teacher, began a hands on writing workshop for youth.  The program expanded based on the responses from youth! Today,  A Backpack Journalist  provides curriculum for the student and staff and presented in workshops includes:  Narrative writing, Journalistic writing, Photojournalism, Songwriting, Broadcast Journalism, Cowboy Poetry, Little Backpackers and Digital Storytelling/Film making and 12  adjunct instructors. Building resilience through creative expression.
Currently, Dennis runs and volunteers at the COVER THE ASSIGNMENT – News Literacy program for A Backpack Journalist which provides a "real life experience" for  youth.  It is the "news gathering" part of Team Backpack Journalist.
Dennis also is listed as an "artist" with Engaging Creative Minds, Charleston, SC., and manages the afterschool program for 4th to 8th grade students, with 9th to 12th in the Intern sections.
In 2016, Dennis, previously worked with the Education Department at The Gaillard, Charleston, SC, developed a FREE – Film Makers Camp for the youth in the low country schools. During August 2016, a screening of JACKIE ROBINSON took place at THE JOE, thanks to the support of Florentine Films/Ken Burns, Sarah Burns and David McMahon and PBS WETA.
In 2017, Inspire-Team Backpack Journalists Filmmaking Camps took place at Burke High School and also East Cooper Montessori Charter School, with a grant from the City of Charleston, SC.
Going forward:  Dennis is also overseeing the expanded Film Maker's Curriculum for 4th to 8th grade, and developing content for the documentaries in the role of "Artistic/Creative Director".
Expanding the focus:  "Inspire  (Filmmaking) Team Backpack Journalists" is to provide youth with educational and inspirational stories about Americans who were not always number 1, but succeeded and willing to share their lives!  (Larry Doby)   Soon,  we begin a summer of fun camp adventures with the Silent Films – CINEMA from Charlie Chaplin!
Editorial Office Contact:
Program Manager: Linda Dennis – 843 – 582 – 2794
For information:  [email protected]
Non profit application/ Team Backpack Journalist – (Inspire filmmaking)
Fiscal Agent: Palmetto Project, N. Charleston, SC
STEAMEDPUBLISHING (dba Backpack Journalist) supports the publishing of all content in ebooks for students and workshops or after school programming)  Charleston, SC