Modules/Subject Tracks/New Book
Each module found in a subject track is available in print or PDF/Digital.
The entire set of modules  includes powerpoints with each module for training purposes, and separate curricula for staff/teachers.
There is a Curriculum Set for the teacher/instructor.
There is also a Student guide, with all content is written for youth (middle to high school).
Afterschool or Expanded Day Lesson Plans/Thematic Units written for 3rd grade and up, several aligned to standards.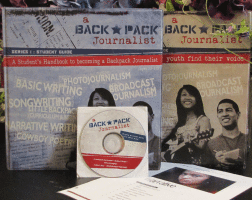 Basic Writing (Scholastic Journalism and reporting)
Narrative Writing (Creative Expression – finding one's voice)
Photography (Photojournalism)
Songwriting (Basics)
Broadcast Journalism (included with writing)
Cowboy Poetry (our first book is now published!)
Little Backpackers (6-11)
Digital Storytelling – Film Making (in production)
New for 2014 – What's your story – Backpack Basics
PLUS pilot tested  – Afterschool/Expanded Day Curriculum (for 3rd grade and up)
Afterschool or Expanded Day Curriculum is included with the above package:  What's Your Story?, Hats tell a story, The Life of Larry Doby (aligned to Social Studies Standards and Literacy Standards) , Rockwell's Selfies, The Seagull (basic writing assignment), and expanded:  "Cover the Assignment".
 NOTE:  unlimited reprints allowed per classroom purchase/per teacher purchase.  Notebooks are available for purchase at $100.00, and contains all of the DVD content printed with the exception of the PPT's training for staff.
Our COVER THE ASSIGNMENT module has since it's beginning, the challenge to each youth participant to use their critical thinking skills to judge the reliability and credibility of those that they are interviewing or the facts that they are gathering from an event.  As our teachers and staff have worked side by side with each youth participant during the assignment, we learned that the one on one coaching by our teachers and staff that is "to seek and find fact based information" was providing a great impact on each youth.  Basically, the youth gained a clearer perspective on how the news is gathered and delivered in this digital world where there are no longer borders.  They learned how to gather and create fact-based articles or news.   Teaching how to listen and observe is a key component of our emphasis.  Each youth participant saw quickly how they could make an impact with the written power of their own words,  the importance of accuracy and in some cases find their own path to the advocacy for a social issue such as PTSD for example or working with at-risk youth.
COSTS:
A Backpack Journalist – Set includes all modules as described here,  After School and Expanded Day – on a set of DVD's:  $499.99.  Distribution/photocopies are permitted for a classroom teacher or youth program within a school or chapter.
AVAILABLE in Spring, 2014
How to become a Citizen Journalist  –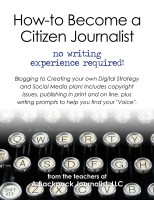 100 -page book (in print and e-book/DVD), a how-to guide that takes the beginner from writing the first letter to the Editorial staff, to blogging, building your own social media presence and the basics of writing. Plus a section on "News Literacy" and what it means to be informed in today's world with the news being delivered via the TV, print and on line.  The news comes from so many different directions – just who, what, where, when and why  – does all this mean?
$29.95  suggested retail.
Contact our Program Office:  843 582 2794  for further information.
Email:  [email protected]
We accept VISA/MASTER CARD
Review of all content by Dr. Frederic J Medway, USC Professor Emeritus. The curriculum also includes a chapter by Dr. Medway on the benefits of writing and journaling, and creative expression.
WORKSHOP FORMAT:
ALL of our modules ROTATE, our workshops are considered "unique" .    Thus, a student/youth/adult learner will find that these rotations will allow for a productive learning experience in that one or all of the modules will allow each to find "their road to their own internal voice".
We combine a minimum of two subject modules for a successful workshop, utilizing the curriculum as described herein.
COVER THE ASSIGNMENT  is a separate by invitation only module.  Backpack Journalist Interns who has attended a workshop or have shown journalism based skills in their own youth program are involved.