10th Annual Southeastern Cowboy Gathering….
March 9, 2013
The Booth Museum,  Cartersville, Georgia
Ever been to a "real" Chuck Wagon cook-off?  Or, sat and listened to Cowboy Poetry that tells of the American West and the life of the Cowboy by middle to high school students?  Then, spent time viewing the finest collections of American West Art and sculpture, only to discover a Presidential Gallery with Thomas Jefferson sculpture in bronze?  And, then had a chance to view the National Geographic's Exhibition of the Greatest Photographs of the American West?   Plus meet Dave McGary and watch him put the finishing touches on his bronze sculptures.   His career has focused on creating realistic bronzes of American Indians.  All in one day?   And, only 45 minutes from Atlanta, Georgia!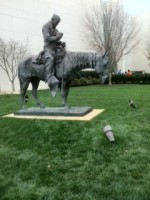 The Booth Museum, Cartersville, Georgia hosted all of this
and more, as tonight there is a Western Concert with Asleep at
the Wheel!
So let's start with the Chuck Wagon cook-off.  Reflecting back over movies or television shows that have shown folks heading west in wagon trains, there was always one wagon filled with cast iron pots and food basics.  There was the one Cowboy being called the " Camp cook".  There was always a campfire and Cowboys and other folks sitting close by eating out of round pots with simple utensils.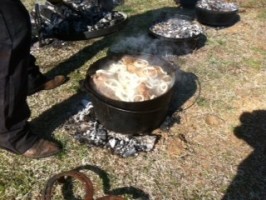 Walking through the area set aside for the Chuck Wagon cook-off, felt like being on a movie set, with action going on everywhere!  Plus, lots of campfires were set in the ground!  Charcoals ablaze.  The competition was on!  Throughout Old Glory was found hanging amongst some of the different Camps,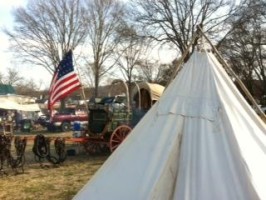 Old Glory flew amongst the Cowboy Cook Camps!
and it felt good to see!  The menus varied from ranch to ranch camp, but one thing for certain, pounds of potatoes were being cut and prepared along with, Dutch oven cast iron pots filled with meats and other poultry.  Did I mention, there were pots filled with cinnamon rolls as well?  (PS to create an oven for the rolls, the Cowboy would put the pot of the fire – then on the lid of the Dutch oven place lots of hot charcoal or coals.  That created the oven and the rolls would bake.)  Most certain, that this Camp Cook that did this was the favorite one!
(See end of article of contact information on Cow Camp Cooking)
The Finals of the Literary Arts through Writing Contest was held inside the Booth Museum.  The presenters came from Middle to High School and were the finalists selected for each category – Narrative Poetry (Middle & High School) Cowboy Poetry (Middle & High School).  Each group of youth took a turn on the stage and either read (Narrative) their poem or each group of Cowboy Poets recited.
Tom Kerlin, Georgia's Cowboy Poet emceed and while the judges went off to make their decisions, Tom shared with us many Cowboy Poems and we learned quickly how he became one of Georgia's Cowboy Poets. (Note Jerry Warren is the original Georgia Cowboy Poet and an instructor with A BackpackJournalist).  Tom left Georgia after high school, joined the Air Force and then ended up in Cheyenne, Wyoming!  He shared openly that all he ever wanted to be was a COWBOY.  So, we learned that at one time, Cheyenne had 46 bars and one special one called the Mayfair Saloon!  Tom, today of course lives in Georgia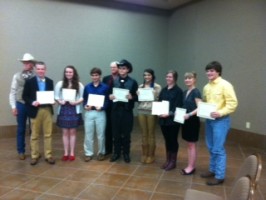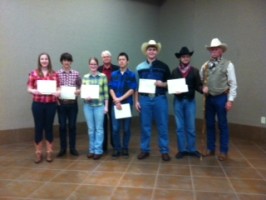 The Booth Museum will be posting the winners in each category shortly!

Pictured here are the youth from each group with Mr. Choate from Bankers Fidelity, the sponsor of the contest and Tom Kerlin, host.
So how and why did so many youth participate?  Linda Casey, a teacher from Pepperell High School, in Lindale Georgia had many students enter the contest at all levels.  Several won key places and prize money!

"We combined AP English and history, provided a field trip to the Booth and then set out to research the subject matter.   Each of the Cowboy Poems were carefully researched by the youth for the facts and the time period, and then in AP English we worked on the writing!"
Ms. Casey is shown here with Savannah Crabbe, a first place winner for her Indian Poem.  Note her period dress and hair was braided as well.
During one intermission, Tom stepped aside and welcomed on stage Jim Dunham, who is the Director of Special Projects of the Booth.  Jim, also is performer and was dressed in real Cowboy dress – or "period clothes".   Jim starts out, "So back during the day, Cowboys wore hats with the flat brim!  Not the kind that was rolled up like today.  They always had the bandanna around the neck to help with the winds and dust from the prairie! They tucked their pants into their boots. "  Jim also wore on his hip and holster with a COLT 45 (unloaded of course) and with a quick twist of his wrist was twirling it in and out of his holster! 

  Lots more to Cowboy Jim Dunham, as he commented at one point:  "well, the bandanna could be pulled up also so that the Cowboy could go to the bank..after all they did nto have ATM's back then!"
He also asked: "how many of you were around for radio?  Remember the Lone Ranger? No pictures.  No color? You had to use pictures in your mind!"
At one time he was the 20th Center Fox "Cowboy Trainer" for actors who were to appear in westerns!  That was when Westerns were in the theaters and on television.  Jim quickly named them off – and brought back immediately – GUNSPMOKE and Ms. Kitty.
A special notation:  All of the First Place winners in Cowboy Poetry received a special citation called the "Doc Stoval Cowboy Poetry Winner".  Doc passed away this past year and  was the Georgia Balladeer and also worked at the Booth for many years.  He will be missed, and in his honor, today the Booth announced this special award designation.
The reciting came to a close and it was time to take a break and begin to walk through the Booth Museum.  (Should note that following the literary contest, there was a Fiddle, Mandolin, and Guitar & Banjo Contest.)
To celebrate this Cowboy Gathering, was filled with table of arts and crafts projects for children, from a spoon doll to making an Indian Headdress and decorating it with the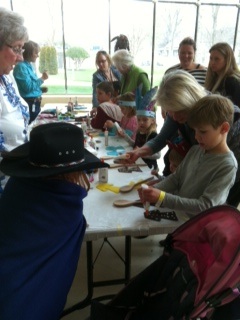 specific Indian symbols.
(Note many Indian tribes had their own language so they often used symbols to communicate).
Each of the Galleries with the exception of The Presidential Gallery was filled with Western Art from illustrations to movie posters, contempory Western paintings and sculpture, depictions of Americans on the move and an original 1865 Stagecoach.  There was a Cowboy Gallery showing Cowboys at work rest and play.  A Faces Gallery showing portraits of the diverse people who settle the west.
On exhibit, and this was the last day, was the National Geographic's, "Greatest Photographs of the American West".   One of the descriptions of this exhibit found on the wall that brought all of these photographs into focus:  "when Americans are asked to describe the American West they often say:  "Open spaces and boundless skies" This National Geographic Exhibit confirms this by bringing remote and sublime in magnificent landscapes".  Many familiar names such as Ansel Adams and Edward Curtis had photographs on display.
The oldest photograph we saw?  Dated back to 1879 from Arizona of a Apache women married to a white man, and on the wall describing the photo: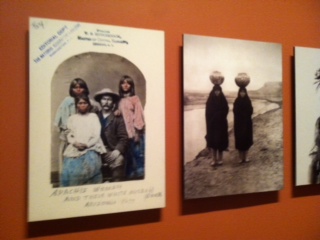 Taken by TS Hitchcock in Arizona a Family Portrait of a White Man married to an Apache Woman.  In that year, US supreme Coast ruled against polygamy.
Another of interest as we are hikers at heart.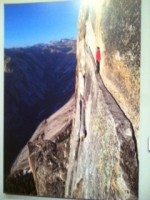 Jimmy's Chin's "Thank God Ledge". There standing on a narrow 4- foot ledge at Yosemite Half Dome is a Hiker.
In the distance and below – Yosemite!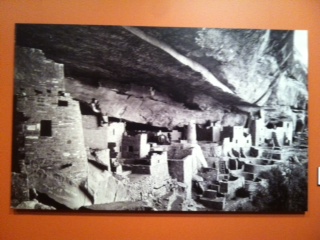 A black and white by Charles Martin in 1921 featured a 150-room sandstone and wood cliff palace going back to the 600's.  It was not discovered until the 1880's and found in the state of Colorado.
The Presidential Gallery!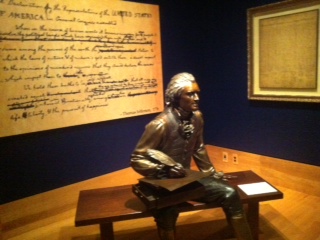 Portraits of Presidents – and in the midst of the gallery a bronze sculpture of Thomas Jefferson as he sat and wrote the Declaration of Independence!
Have to go for now – as the music will soon start at the Booth Museum.  However, there was one painting of a beautiful painted pony that graced the walls in a hallway.   Nancy Glazer in 2009, painted this pony as she felt "it to me was the freedom and spirit of the West itself!"   She named it Audacious!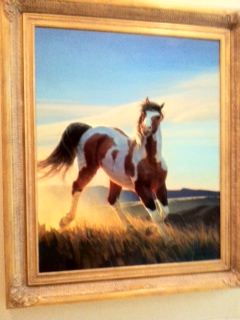 "Audacious!  Indeed! Standing before her painting, we could almost imagine this painted pony in the distance galloping off over the western hills, with her fellow wild horses on an autumn morning.
Go visit the Booth Museum!  Take your Children – and let them see a culture that we hope that will not be forgotten!  The Booth has a special section downstairs just for children  as well!
Yes, The "Booth" will share with you the wide open spaces and beautiful scenery, the dusty plains and wild horses and cattle. It's the stories of the American Indians who settled our lands first.  More than that however, it's of a time period in our American History – when the Cowboy and Cowgirl came to be and campfires often were the gathering places for a day's journey and work put to rhyme and called "poetry".  Here's to those who wish that they had lived about 140 years ago when dreams of putting on our boots and finding the perfect hat and horse and heading out to the range to work was the way of life.
The closest you will come on the East coast is to the Booth Museum, 501 Museum Drive, Cartersville, Georgia – www.boothmuseum.org
For information on Cow Camp Cooking:
Frank B. Wood – [email protected]
or Fairplay Cattle Co – Winston, GA (Charlie Holloway)
or Double X Ranch, Todd Stansell – 1800's Style Cooking – [email protected] (Living History Demostrations)
For more information on the National Geographic – "Greatest Photographs of the American West" – please visit their website – www.nationalgeographic.com