A conversation with Dom Fredinaelli & Cole Smith
From the film:  Where Soldiers Come From
Reported by Alexus Packwood
"Experiencing the War Young: A Conversation With Two Soldiers – Dom & Cole"
 The National Guard pact. Friends in need of money. In need to do something with their lives. Dominic Fredinaelli is the first to join. He needs money to pay for college. The Army National Guard could pay for his tuition. Dominic and his best friend Cole Smith tell their friends, other young men who need the money. And before you know it there is a group of 'just out of high school kids' joining the Michigan National Guard. For a year these close friends know about their deployment to Afghanistan. And the few months of training proves to be useless at Camp Shelby. They are being sent to Afghanistan, but their training is for the Iraq.
There is a great deal of difference between those two locations, and it is important for the soldiers to be trained on their deployment location Afghanistan. Although some of the training is proven to be useful, they have to learn most of the training once they arrive in Afghanistan.  Adding to that their unit gets split up. Two of the eight men go to one unit, while another two go to another unit. In their travels, they realize that even though they are separated they are going through the same thing.
A different world. Completely different from what they are use to. In Afghanistan there are different living conditions and a different way of life.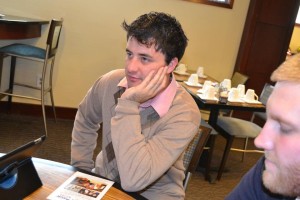 "It's funny to listen to people complain when you see people living like that," Cole Smith comments. "Traveling and seeing the different places there", Dominic adds, "It's actually pretty cool…except there's war".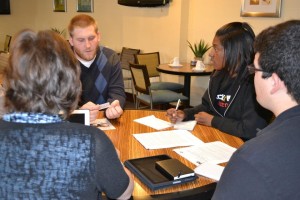 Being trained for IED (Improvised Explosive Devices) these young men are constantly on the road driving slowly.   Always on the look out to disable explosives and always watching for suspicious activities and bomb holdings. Always aware of a possible ambush.
The soldiers still manage to communicate with their loved ones back home. The Skype is often not clear.  The men have to share a phone on an unsecure line.  Which means that even when they do talk to their folks back home there are a lot of things they cannot say? But overall, Dominic and Cole express how the opportunity to communicate with love ones and other things like free Wi-Fi and meals make their living conditions "pretty good".
Eventually, the soldiers learn that their nine to ten month deployment is coming to an end in a couple of weeks. All that is next is the reintegration process and the warm welcome home by their community.
Yes, there are reintegration programs out there.  Whether or not the soldiers believe that they have changed or been effected, there is always help available to them. They just have to know that these programs are there, and then go to the "appointments".
Some of the family and the soldiers feel that there is a significant amount of change soldiers go through before deployment, during deployment, and the struggle coming home.
Coming home trying to be around family and friends again.
Coming home to the many questions.
Coming home to the faces that just don't' know what it is like there.
Coming home to restart the daily routines.
"When I came home, I found I was driving slow down the streets of Hancock and always looking from side to side."    He also admitted quietly that he was having a hard time going to his appointments.
Dom is looking for a job. Dom also suffers from TBI from the time there in Afghanistan. But Dom also t
urned back to his love of painting and expression.  He tells us about his mural that the film with share with us.