A Nature Storytelling Camp! Complete with digital photography lessons.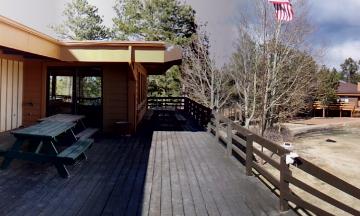 Atlanta, Georgia
April 17, 2013
"We are heading west!"  Are you a military youth living near Colorado Springs and have a love of nature and ready for a great experience!  We have a 3-day workshop and camp now accepting registration.  Read on – as this camp is grant funded, and complimentary to 12-14 military youth (the workshop – the lodging and all food!).
Florissant Fossil Beds National Monument Park has partnered with the teaching staff of A Backpack Journalist to present a 3-day Nature Learning Adventure that includes incorporating basic journalism skills such as how to observe, gather information, write then report on some of the most spectacular remnants of the earth's prehistoric life.
This Nature Storytelling Camp also includes the use of the digital camera to capture the images to help complete the stories.  Each youth during this 3-days, will participate in creating a multi-media presentation for publication, and also building their own portfolio:
"Florissant Fossil Beds – A Nature Storytelling Camp".
DATE:
Date:  July 26, 2013  – July 28, 2013 (Friday – Sunday)
ARRIVE by:  10 am – Friday, July 26, 2013
DEPART by:  4 pm – Sunday, July 28, 2013
LOCATION:
Sanborn Camp/Lodge – next to Florissant Fossil Beds National Monument – Colorado. (approx. 50 miles from Colorado Springs.)
NOTE:
We have available 12 – 14 – complimentary youth openings. 
Complimentary includes:  lodging and meals at the Sanborn Camp/Lodge for Friday night and Saturday Night and checking out on Sunday.
For Friday – Sunday.  Lodge rooms can sleep 2-4.
Chaperones are required to attend with the youth.  We have available:  "paid" 1 lodge room, and meals for 2-3 Chaperones for 12-14 youth.
There is a registration packet to be completed by the youth/their parent or guardian and then the chaperone accompanying.  
SUPPLIES:  each youth must bring a minimum of a 20-gig thumb drive to save their photos and other work completed. Optional:  digital camera or laptop.   We will provide backpacks and t-shirts.  We also will have extra digital cameras and laptops for use.  (On site we will have extra thumb drives for purchase also.)
FOR FURTHER INFORMATION and to receive a registration packet:
Linda Dennis, Program Manager
www.abackpackjournalist.com (curriculum/summer camps)
Phone is 404 314 8007
Description of Florissant Fossil Beds National Monument
A beautiful mountain valley just west of Pikes Peak holds spectacular remnants of the earth's prehistoric life. Huge petrified redwoods and incredibly detailed fossils of ancient insects and plants reveal a very different Colorado of long ago. Almost 35 million years ago, enormous volcanic eruptions buried the then-lush valley and petrified the redwood trees that grew there. A lake formed in the valley and the fine-grained sediments at its bottom became the final resting-place for thousands of insects and plants. These sediments compacted into layers of shale and preserved the delicate details of these organisms as fossils. The Florissant Fossil Beds are world-renowned, and in 1969 were set aside as a part of our National Park System; Florissant Fossil Beds National Monument.
Today, this 6,000-acre national park area contains a wonderland of mountain meadows, montane forests, and is rich in wildlife like elk, bear, fox, and coyotes. There are 14 miles of hiking trails for visitors to explore.
LODGING:  Sanborn Lodging/Camp:   address is shared with all elements of Colorado Outdoor Education Center.  The physical address is 2000 Old Stage Road Florissant, CO 80816.  For detailed instructions on travel please check the website at thenatureplace.net.
######################################################################