A paddle back in time… Tree Art, "Knees", Tupelos and General George Washington, plus a "Gator"
Paddling up the blackwater in Wambaw Creek, the tree branches were barren and hanging over the water in odd and various ways as if nature had gently molded the limbs into a fine art piece. It was easy to imagine seeing these tree branches as a sculpture sitting in a museum of art, somewhere. Every now and then, a Kingfisher would fly through. In the distance, we could hear the woodpeckers tapping away. Turtles perched on a log by the bank, raising their heads out of their shells to find the sun. The water was easy to paddle, and the ride smooth, the tide was in, and every now and then we'd have to maneuver around a wandering log or branch. Nature reminding us just who is in charge.
We are in McClellanville, South Carolina and in the Francis Marion National Forest, and paddling up the Wambaw Creek which is estimated to be about 11 miles long. This blackwater creek had been paddled for thousands of years by the Santee and Coastal Plain Indians, and at one time was a part of the area used for the planting and harvesting of rice.  The large portion of the forest is younger due to clearing for the planting of rice or harvesting trees for timber and building.  Rice was last harvested in the low country in 1927 in Ravenel, South Carolina by the Ravenel family.
Large, old Cypress trees, most likely been there for over 1000 years,  sit back off the bank, and into the swamp we see that the new growth had not yet arrived on the Oaks and Ash, Red Maples and Swamp Dogwoods. It had been a rough winter.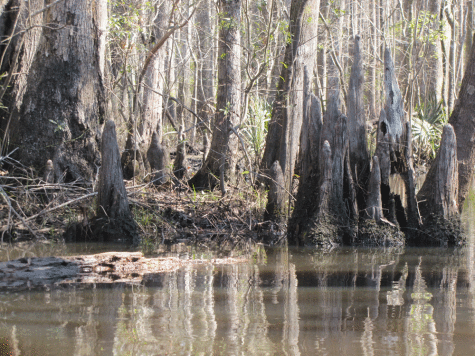 There were little "knees" clustered about the swamp next to the large old Cypress trees. Loved the name, "knees". They are little narrow stumps of tree matter in various heights, but never the full size of a tree. From the distance, they looked like little nature soldiers all lined up and standing by the larger trees. Lots of them, protecting the swamp lands and waiting to grow up or maybe not.
The Cypress trees we see seem to be  missing their crowns. During hurricane season, the winds came through and off go the crowns. Some were hollowed out as well.
There is one Cypress looming large next to the bank and is affectionately called the "Grandfather" and then the "Grandmother". The little Cypress nearby was referred to as the "Nephew". Then there were the Tupelos.
So what does General George Washington have to do with a paddling trip up the blackwater of Wambaw Creek? Seems he visited the Hampton Plantation which resides close to the creek, and was a good friend of "Lucy"(Eliza Lucas Pinckney).  "Lucy" Pinckney, one of the first female plantation owners and managers. Such a good friend that when Lucy became ill, he sent her to visit his doctor in Philadelphia and when she died of breast cancer, he was a pallbearer.
There was this "gator".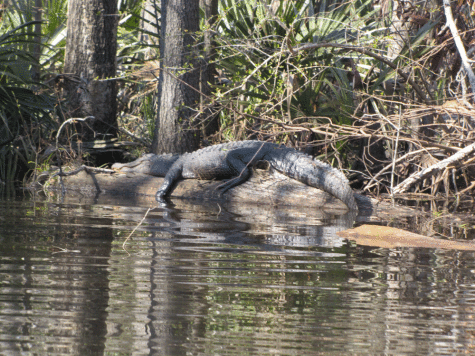 He was resting on the log, and sound asleep. The sun was beating down on his long snout. The photo here was taken at least ten to fifteen feet away from his lounging spot. We are told that we are lucky to have seen him today, as often they hide out next to the bank and amongst the clumps of fallen branches. Today, he is out, and enjoying the sun. So how do we know when they are ready to move? They "twitch" their snout or mouth, and then they move. Makes one wonder and for certain to remain alert and watching for the "twitch".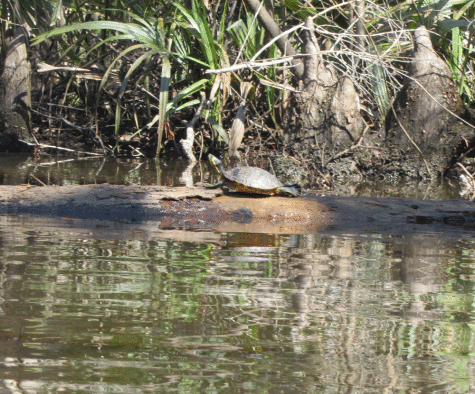 An Adventure in Nature – Summer Camp:
This summer, "backpackers" will have the opportunity to paddle the blackwater and up the Wambaw Creek, and by then, the trees and plant life should be in bloom with Orchids and lilies. We begin our Nature Adventure Camps with a day in our digital classroom, where all the youth will participate in a "What's your story" exercise. Each will participate in hands on day of learning how to become a storyteller. Day two, we head out to join Nature Adventure Outfitters to paddle and to gather the "stories" that we find along the banks of Wambaw Creek and the  blackwater in one of the greatest open classrooms nature has to offer.
Closing comments:
Today's trip was to celebrate a day of warmth, and to listen to the sounds of nature, watch for birds and wander and learn.  It had been 20 years since I had paddled. So after an afternoon of paddling and spending quiet time with nature, we had a history lesson, and went back in time for a few moments hearing of those living before us, paddling the same waters. All in all,  renewing one's spirit after a long winter of challenges and to celebrate learning something new.  We hope your young person will experience this and more!
Thanks to Elizabeth, Nature Adventures Outfitters for guiding us along and often calling out – "paddle left or paddle right", and sharing her love of this special place.
www.kayakcharlestonsc.com