Ain't you got the right to the Tree of Life – preview only!
21 minutes was the complete l-act!
A short edited version of our 21 minutes presentation:  "Ain't you got a right to the Tree of Life".
Inspired by the celebrated book:  Ain't you got a right to the Tree of Life, by Guy and Candie Carawan.
Our Afterschool and Saturday School, Inspired Backpackers worked for 3 months reading and studying the histories collected by Guy and Candy Carawan in 1963.  These histories spoke to life on Johns Island in the 1960's and tell the story of many of the residents often called the "angels" of the Civil Rights movement.
This was presented live in the Dock Street Courtyard on May 30, and filmed by Trinity Hutzler.  Parents came, but also we were graced by many who had heard of this book wanted to learn more about life on Johns Island.  Mayor Joe Riley took time out of his busy day to join us as well!
Thanks to many of the school districts reps who came to learn!  We will see you soon – as we put our presentation on the road throughout SC.
Our next stop:  Beaufort, SC to view the Robert Smalls museum and also the Penn Center.  Our next reading is focused on Septima P. Clark.  And, we also are heading to Tennessee soon to meet again with Candie Carawan!  We did spend a week with her in January, and now we look forward to more conversation!
From left to right:  Tyler, Arjun, Randy Neale, Tennyson, Gavin, Madison, Emma, Katie, Mayor Riley, Ruthie, and Linda Dennis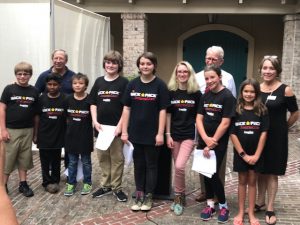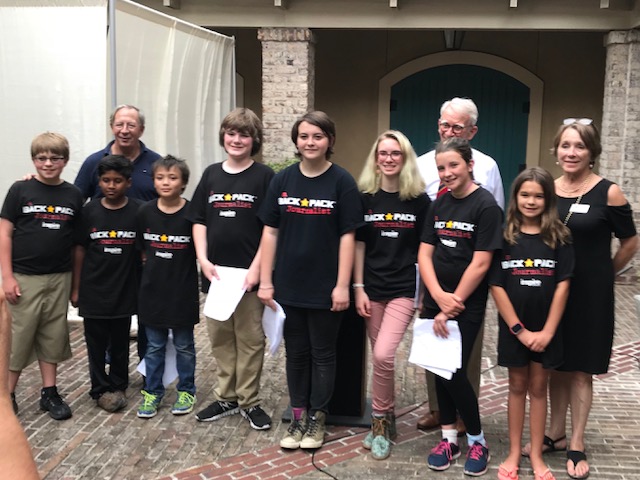 For a 21 minute version, please contact:  Linda Dennis – [email protected]