Amir, a backpacker, throws out the first pitch for Dr. Postlewait!
following we interview Dr. Postlewait!
Sunday RiverDog games are always fun, as they are all about family and kids!  The kids can play on the field before the game and Charlie the Dog is always around for hugs.  Today it was special as the Charleston County Library announced the winners of their summer reading program, and Dr. Postlewait, Charleston County School District new Superintendent came to throw out the first pitch.  Members from Team Backpack Journalists from Sanders Clyde and Jermaine Joyner, Principal, walked with her out on the field, and she asked Amir Wells, to take the pitcher's mound and throw the pitch for her!  He did and the RiverDogs catcher caught it, according to Amir, "just right!"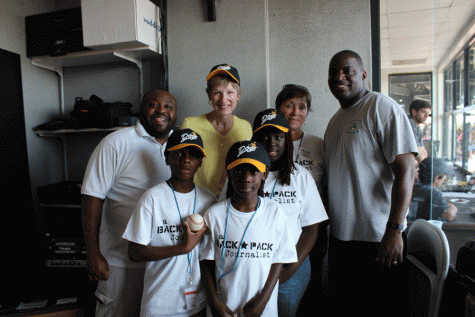 With our recent publication featuring The RiverDogs, it seemed just perfect to invite Dr. Postlewait in to the press box following the pitch!  Ja'Den, Amir and Dorian had brainstormed at lunch with the questions, and first as always, young students want to know:  "What did you want to be when you grew up?"
As a youngster, Dr. Postlewait's grandfather sat her down and advised her to either become a nurse of teacher.  It was during a time when those were the options for a girl.  She thought of law school also, but her husband was in Viet Nam and coming home and moving was not right for her at that time. So she became a teacher, and loved it!  And, now today.
Amir went straight to "What are your plans for the Charleston County School District?"
Without hesitation, she responded, "Charleston Country School District is one hundred miles from end to end, and with schools and children with different needs.  My goal is to visit at least 4-5 schools a week, supporting the 50,000 students and their teachers, and not on Friday (smiling), as that is the day that teachers want to go home!  We have some schools where the high school graduation rate is low, and we need to fix that.  If something is not working for the students, then we will correct it right then, and not wait until the end of the school year."
Following up, Amir asked, "so what is the favorite part of your job, and the least favorite?  Dr. Postlewait, responded with her favorite: "meeting the kids and teachers", and least, "going to meetings where people, with a microphone in their hand, often say negative things about or to me, and they do not know me."
Dorian had learned of the Pipeline to College program in Horry County that she is credited for developing during her tenure as Superintendent.  Dr. Postlewait explained how it worked well for the middle to high school students in Horry students in preparing each for college or tech school.  Dorian quickly shared with her his Voorhees College experience from the summer.  "I am going to Voorhees College now because of Bridge to Success pilot test with Coach Shaw and Mr. Joyner and Ms. Dennis. I participated this summer!"
All of the team backpackers love all types of sports and asked also about her thoughts on the importance of exercise and outside activities.  Ja'Den quickly added that for the elementary school grades that "we do not have an athletic after school program".
Dr. Postlewait commented quickly that if she did not receive at least one hour of exercise a day that she just not feel good.  She highly recommended, "you should spend an hour daily getting out, walking or some other form of exercise!"   She shared also that recess, either organized or free time, is important in the school day.
All of the team backpackers wanted to know what she did in her free time, and learned that she is very much a family person, and has family older than she, and then younger.  She plans to spend time with both, often and they hike, bike and even ski.
Getting ready to pose for a group picture, we presented Dr.Postelwait with a  RiverDogs hat.  A lot of fun was had, as we gave her advice on how to wear a ball cap.    The photographs in our album on Facebook.com/backpackjournalist  of Dr. Postlewait were taken by Dorian, during the interview session. We are most happy to share, as he is one of Backpackers who love the camera and always captures the essence of his subjects!  He fills the frame!
Reflections from today:  teambackpackers always enjoy our assignments, as it always includes food.  Tonight as we ate our pretzel bun hamburgers, following our big lunch at Sticky Fingers, we reflected on our first impressions and what all agreed would be our "opinion statement".
We believe that Dr. Postlewait is about "us".  She is all about making sure that we, the students, get the best education here in the Charleston County School District. That's good.  She says we need to go beyond high school, for either a tech education or college. We will.  Thank you Dr. Postlewait for being there for us!  Amir, Dorian and Ja'Den – Teambackpackers  (Stephan could not be present today.)