WASHINGTON, DC  – POINTS OF LIGHT CONFERENCE
SERVICE UNITES  – Military Track
JUNE 23, 2013
General Martin Dempsey, Chairman of the Joint Chiefs of Staff,  affectionately known as "Marty",   was introduced by Robert Durbin, VP – ITT Exelis, a retired Senior Officer who served with him and also the sponsor of this Military Track.  "His proudest accomplishments are that he married Deanie, his high school sweetheart, his three children who have all served  in the US Army.  and of course, his seven grandchildren."
A Backpack Journalist (Hannah, Daniel and Jessica) each have been raised in the military life.  Each knows of the meaning of service to others.  And, today they each were given the opportunity to interview the Chairman, spend time with him, and in closing hear his wise, sage advice for young people of today.
Hannah (Ft. Benning, Georgia): Sir, we are here at Points of Light – a national volunteer organization. How can we leverage the spirit of volunteerism that exists within our military to achieve positive results for military members, their families, and for military youth – to help the "Civilian sector" use our best practices for outreach?
General Dempsey:  Hannah, that' a good question.  The needs of the families and soldiers in the middle of Georgia, let's see you are at Ft. Benning, in the case of soldiers, will certainly be different than in Minot, North Dakota
The answer most simply stated is a commitment.  If we feel like, and we do by the way; that the people of the community of which we serve, care.  That's really the most important step.  I think, it (caring) engenders a level of trust that then works both ways.
Second part, once you establish that caring and commitment, and that basis for trust; then I think what comes next, is an honest conversation about not helping them more than you would help anyone else, but just giving them a chance, an honest break.  A chance, like anyone else in your community.
I am really careful to make this point wherever I go.
Sometimes "we" talk about Veterans as through they are "victims", that they have these huge insatiable needs. That's really not it.  Some of them are awfully wounded and have horrible psychical and psychological needs.  And they need help.  No question about it.
The vast majorities of Veterans, men and women, are pretty strong and have a lot to contribute to a community.  Once you get from that basis, we really care and we have a level of trust between us.
So it's not so much a handout, but it's  a hand shake.  It's not helping a victim but it's taking advantage of the talents what military members and their families bring to a community.
That's kind of a mindset about what which to frame what you all are doing, I hope it makes sense.
Hannah:  yes sir, it does.  Thank you.
Daniel:  Sir, Can we go now to the military service member of tomorrow?  Can you take a moment to share some thoughts about how you see the military services changing, growing more as technology expands?  What jobs or opportunities may change?  For example, I think as a child I dreamed of piloting an aircraft, and now I think I may have to compete with a "drone".
General Dempsey:  Have you seen Harry Potter's cloaking devise?  (Laughter – Daniel nods, I have one he mumbles).
Although, we are working on Meta materials that have the ability….  Really incredible technology.  Let me not start with what is not going to be different.
Let me start with what is the same.  Let's say that the soldier, sailor, airman, marine in 2025-2050 forward, in those coming years will have to have the same qualities as their counterparts today, in several important ways.
They will have to agree to live an uncommon life. The military life is not a common life.  You don't seek great wealth. You set aside some priorities in your life that you might otherwise pursue.
You have to have first and foremost, a commitment to do something more important than yourself.  That can never change.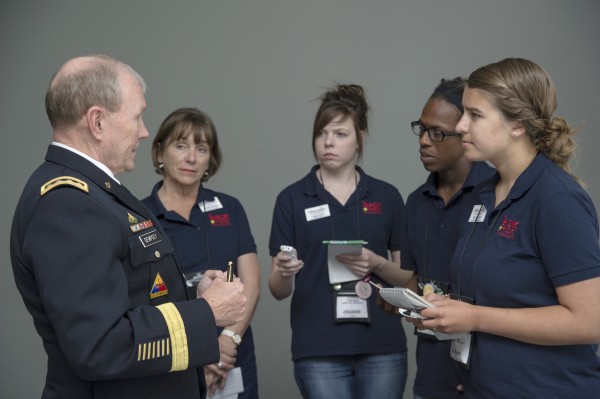 We will have to have men and woman of courage.  I do not just mean physical courage, of course physical courage.   Moral courage. The issues that the world is today tossing our way are issues that require great moral courage– the ability to do what's right – because it's right.
Ethics.  The third thing is a commitment to a set of ethics, part of living an uncommon life.
Duty. Honor.  Country.  Commitment. Courage.  Perseverance.
What the country needs, is someone who will not just go and do what the country asks, but someone who will go do, to persevere, a kind of "stick-to-activeness", that maybe the rest of society can't do.  You can't hit a reset button on the battlefield.  Stay with it!   That's what is the same.
Now for the future?  I can't imagine what the technology will be, let's say in 2025?
More robotics, air, land and sea.  I think if the path to Internet protocol continues– most communications will be of a fashion we can't even imagine.  They will all be small, mobile and with the ability to communicate with each other. And high definition, with  all having the ability to interact with each other.
There might even be service that we can't even predict today.
There was not even a CYBERFORCE in 2000. There is today and one of our most important components of our military service.
What I would do with your article, is start with "won't be different". Then, I would migrate to what will.  The best part about the military is that our core competence is to build leaders.
We grow leaders. That provides great opportunities. Provides them today, and will tomorrow.
Daniel:  Thank you, Sir.
Jessica:  With Sequestration, now in place, how has it impacted the programs  that support our soldiers and families?
General Dempsey: Sequestration, as we have all described it is a terrible way to do business.
It imposes some physical distractions: closures of commissaries, childcare development centers, furloughs of medical people and teachers.   It just imposes some physical changes that are really inconvenient.
My view is the real damage is psychological, from the physical reality that the commissary is not open?
Now,  all of sudden, you have these young men and woman who are serving with their families, wondering what's next.  If  that happened this year, what about next year?  A fair question.  I get this all the time.
Our commitment, those of us in senior positions, we won't deal with one year at a time.
We have to have help with our elected officials to do that. We only control part, not all of the way we use our budget when it is given to us.
We have to get away from sequestration. The Congress and administration have to find a away, and with our help to reveal what sequestration could do to the force, both the part that goes to fight and  those that stay home,  to keep home fires burning,  to the defense industrial base.  Also to our ability to recruit in the future.  We have to lay that out.
We all (Congress and the Administration)  have to come to some agreement, how much more reduction might we be able to take for the good of the country.   And, we need the time to take it, not in a year,  but in two years and to spread it out.  We have to have the cooperation of the Congress to get this done.  Somethings we may not need, but precluded by law.
Now I believe, that we are going to get through this.  We have to.  In the meantime, it might take us a year to get through this.
I have encouraged our service members and families, do not despair. We will carry the message.  We will make it clear that we should not be doing this one year at a time. We will pop through on the other side, better than we are today!  It will be painful getting from here to there!  We will get through it!
Closing remarks:
Sir, thank you for your time today.  We are aware that you have a Masters in English.  Could you share some advice with these young Backpackers?  The youth of today?  They are all just starting out.
General Dempsey:  after a short laugh and smile, spent a few minutes sharing his experiences while attending graduate school.
"Well, I graduated from West Point with a degree in Engineering.  In today's world, you have to be able to communicate in order to succeed.  You can have an IQ of over 200, but if you can't communicate, you will go nowhere.  So I went back to school.  It wasn't that easy either.  I worked hard.  This requires hard work."
"And, next I would suggest that you read.  Read all that you can!".
Great advice and wisdom shared by the top military leader of our country!
As we all said goodbye and said our thanks,  General Dempsey shook each of our hands, and placed within each palm, his COIN, inscribed as follows:  18TH CHAIRMAN – JOINT CHIEFS OF STAFF, on one side.   The other side:  Presented by General Martin E. Dempsey.
The link listed below will take you to General Dempsey's sharing of thoughts at the Points of Light Conference.
http://www.dvidshub.net/video/294352/cjcs-remarks#.UcewpuAkRUR