Backpackers meet members of the San Antonio Rampage Sled Hockey Team! Vets – wounded warriors and now "Heroes on the ice!"
Imagine this..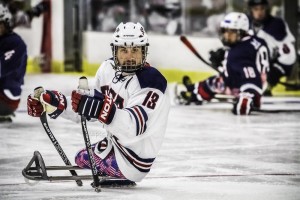 Backpackers  noticed a neat group of young men – all wearing – The San Antonio Rampage Shirts – and something about "sled hockey!"
WOO-HOO – we got to meet Joshua Sweeney, 2014 USA Paralympic Sled hockey team!
These guys are our "REAL HEROES!"  Veterans who served, came home as wounded warriors, and trained for sled hockey!
This team is funded by Operation Comfort out of San Antonio, Texas.  Kudos to the Roznowski's for establishing this non-profit to support these guys – who while on a small sled, using amazing arm power and strength head to the ICE, and it's all about winning!
Follow their team on facebook.com/thesanantoniorampagesledhockeyteam!
We wish the members who are traveling to Russia – well, and a successful Olympics!
Backpackers will be following them – and we hear that they are heading to St.Louis in January!