Backpackers visit Volunteers from Point of Light at the World War II Memorial, and find another story! Read on!
WASHINGTON, DC
June 22, 2013
The World War II Memorial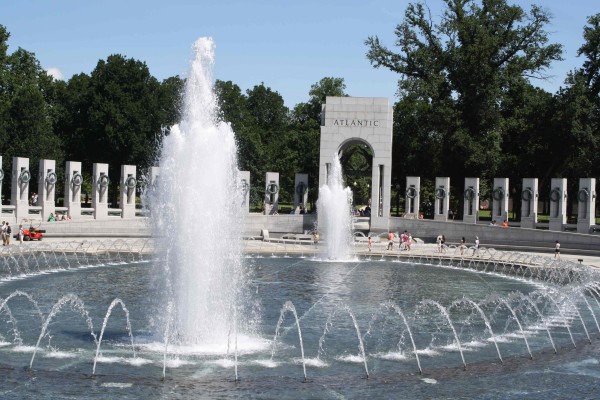 is always busy with lots of visitors. We are there to find the volunteers, who attended the Points of Light Conference (Service Unites) and are spending the morning, "greening",  cleaning and weeding the areas around the memorial.  The Coca-Cola Company sponsored this event, Servapalooza Service Festival.
In the distance, we see lines of people standing in lines and also in wheel chairs.   Through our lens on the camera we see that they appear to be Veterans and the caps told us a lot.  We see World War II, the Korean War, and the Vietnam War patches on the caps. Then we see – Honor Flight across many of the t-shirts, and the closer we get, we see "Guardians and Veterans" also on the t-shirts.
So this special day, our "Backpackers" got lucky.  We get not only one story – but two stories. We happened upon an Honor Flight event that was attended by 37 Veterans, their Guardians and numerous volunteers there to support their visit.  If you are not aware of this program, it's all about bringing Veterans from World War II, Korean and Vietnam Wars to Washington, DC to view the memorials built in their honor.
With each Veteran, this program also brings a Guardian (usually a family member) and they spend the day touring the Memorials, have lunch and then return home.  It's a long day, but this program has on site, volunteers who assist with any need from delivering the meals to helping with sunscreen!
Quickly we find out that the flight landed at BWI, and waiting on the Veterans as they de-plane and get into the busses, are Harley Davison riders (Patriots) who meet them to escort the bus or busses into the DC area and to the Memorial.  How does the word get out?  FACEBOOK and by just posting the date/time of the arrival of the airplane at BWI, the riders appear!  When we asked one of the organizers, he simply said:  "they, the riders, just show up, ride, escort and we are honored to be here!"
Looking beyond the line of Veterans waiting for their box lunch, we see people on their knees, bending over and in the bushes pulling weeds and clearing the brush away behind the roped off areas.  We see bags of twigs and weeds in plastic bags being pulled out from the roped off areas, and people standing to stretch their backs!  Hands were covered with gloves, and while wearing sunglasses and obviously sunscreen used, one could tell it was a warm day, as we see smiling, glistening faces.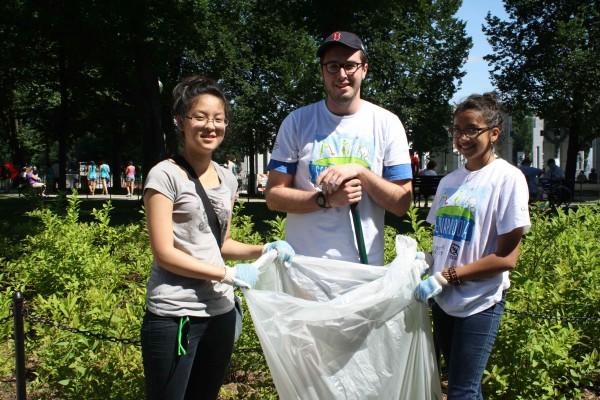 So who were some of these volunteers and where were they from?
Charles Baranowski, is pictured here with his team from Philadelphia ands works SCA (Student Conversation Association).   This association helped to organize over six hundred volunteers to work on the National Mall.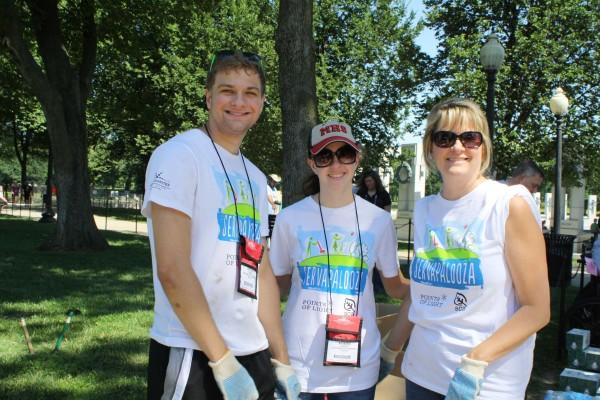 The team from Cleveland Tennessee Community College stopped long enough to share their story.
"Last year, at the Chicago Points of Light Conference, we built a seed garden and just loved doing it.
So we decided this year, to stay over and participate today" Check out their Chicago story from 2012  (link is included at close of this article).
Not far from where the Servapoolza Service Volunteers are working, we see a group of teens and video camera set up.  Friends of the National World War II Memorial sponsor the collection of stories from the Veterans as they visit the memorial. Teens from local area schools volunteer and are involved with the actual shooting of the video to handling the interview.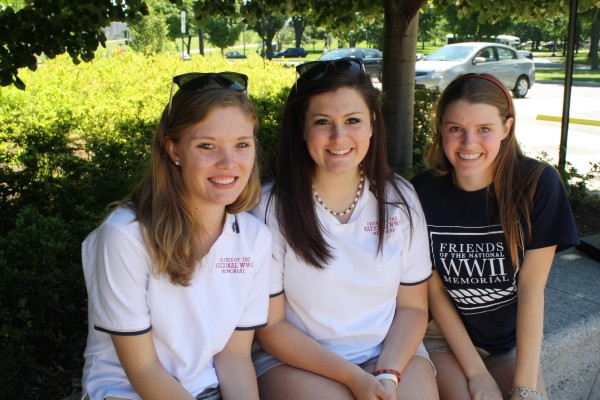 "We come to help preserve the legacy and the stories of the Veterans from all over our country.  We can read all about each of these wars in a textbook, but there is so much more to our history and we want to help preserve each of their stories before their time is up."  Elizabeth shared.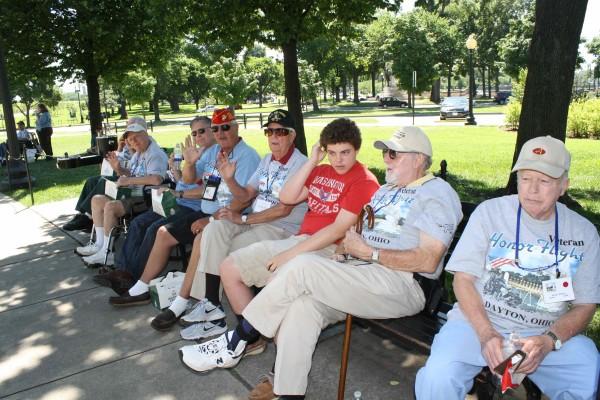 We stop and talk to many of the Veterans sitting quietly eating lunch in the shade.   We thank them, and ask where they are from.  Their hats help us learn about each Veteran quickly, making our opening easy.   We hear that some volunteered for World War II when they were only seventeen!  Others, served in the Korean War, and there were some also from Vietnam.  This was the first time that they had been to Washington, DC.
From several uniformed service members standing nearby, we learn that they are onsite, as volunteers to provide support, and to "thank" these Veterans.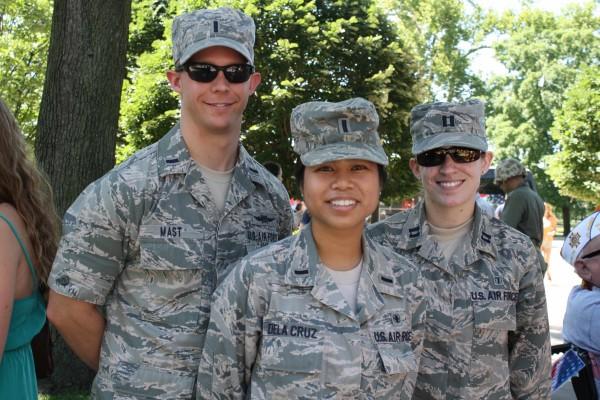 They stood facing the World War II Memorial, and spent time with all those visiting, as well as other visitors.
We meet the parents of two of these service members and learn that all of their 3 children are in the military and "we can't just do enough now to recognize and thank these Veterans"
"When my husband gets around Veterans, all he wants to do is shake their hands and thank them.  It's become quote emotional for us."  Kim Mast, from Michigan.
A young child appears, and she walks up to the service members in uniform and quickly says:  "HI my name is Tracy." Thank you for your service!"  She offered up her hand for a quick handshake.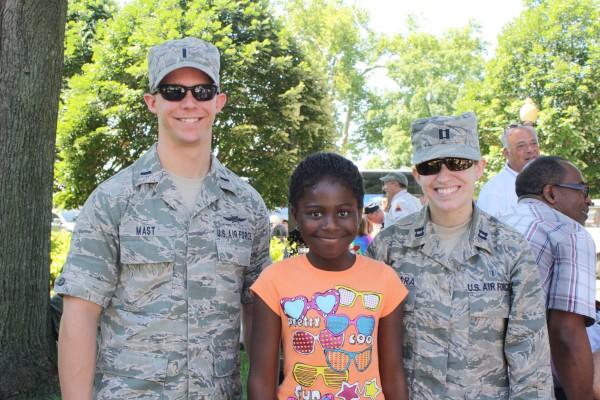 This young child said it best and this clearly applied to all that we were reporting on this day.
One group (CSA – Points of Light – Coca Cola) came as volunteers to provide service to "green" these landmarks and also to clean up the areas around the World War II Memorial.  The other group of volunteers (Honor Flight) helped to bring Military Veterans to the National Mall to view memorials erected in their honor.  And finally, the thirty-seven Veterans who served our country and helped keep our nation free!God Bless America and to all those who volunteer!
For further information on each program:
www.honorflight.org  (Dayton chapter)
http://www.clevelandstatecc.edu/search/results/4683e17e307ec2705b9ad7b0fc76b2b8/
www.pointsoflight.org