Cars & Parts – Cars & Ports!
Hendrick Automotive & SC Ports Authority! We thank you for your support!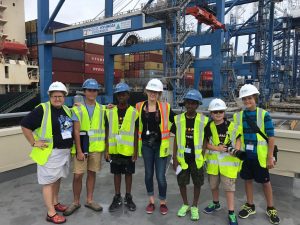 Arts Matter Day in October 10, 2017!
Team Backpack Journalists after school programming and summer filmmakers camp enjoyed learning about cars and parts and the SC Ports.
From our hands on sessions we learned all about the mechanics of a car:  the tires, the engine, the pistons, the paint and just how to design a car!
Then onto SC Ports Authority!  We spent two weeks, and two groups of backpackers covering the assignment.  Dressed with hard hats and bright yellow vests, the backpackers took hundreds of pictures and short films.
Our books are shown here:
Our video SC Ports Authority can be found on our youtube channel.