CASE IH & PAINTJAM Painter Dan Dunn! On stage at FFA!
FFA – IGNITE – THURSDAY OPENING SESSION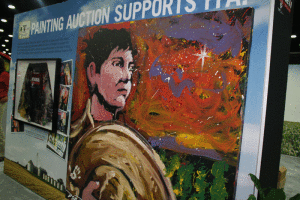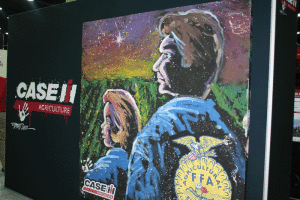 Dan Dunn, on stage, performed his artistic magic on canvas!  And, backstage he stood back and smiled and added one small brush stoke besides his name!
BACKGROUND:  CASE IH partnered with speed painter Dan Dunn of Paintjam to create four Dunn works of art to honor the "Year of the farmer".  This partnership included the continuation of the alliance with sister company RAM TRUCKS and the Super Bowl Commercial with the Paul Harvey commentary.    These works of art are being auctioned off, with the funds donated to help  support FFA.
At the 2013 Farm Progress Show, Dunn began his magic with his paint and brush.   On stage in Louisville, Dunn continued with two other works of art.  Shown here are examples of his work!  It was fascinating to watch Dunn work.
Kudos to CASE IH for their continued support of FFA, and in supporting the Arts!