Celebrating the Life and Legacy of Septima P. Clark
Mayor John Tecklenburg read the City of Charleston Proclamation!
Today, Ms. D attended the dedication of the historic marker of Septima Pointsette Clark's birthplace: 105 Wentworth Street. It was a celebration of her life and legacy. Martin Luther King, Jr called her the "Mother of the Civil Rights movement".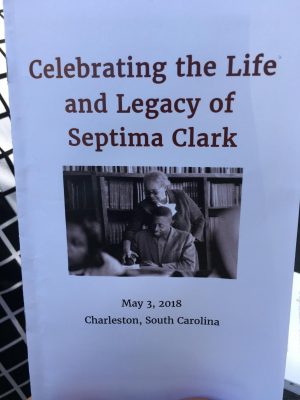 Only sad issue was that the "backpackers" could not attend as it is the last days of school, testing is ongoing and so, well, Ms. D just filmed the entire ceremony! So to all who missed this beautiful sharing of her life, no worry.
Our backpackers will be editing together and posting it soon.
Now to all who wondered who Ms. D was, well, she never goes anywhere without the "backpackers" and their iPads. Too funny eh?
The inspiration for today and the development of the historical marker at 105 Wentworth Street came from two young South Carolina Teaching Fellows at the College of Charleston, School of Education.  (Ridge Welch and Alexis Lain!).  And, we can't wait for the backpackers to interview them!  They were in Dr. Hale's class and studied the life of Septima and learned that she was born nearby on the College of Charleston's campus.
The Backpack Journalist programming has copies of the Curriculum for the Citizenship Schools that Septima developed in 1955 and we treasure it. We have read her books, and studied her life. She mentored so many during her life: Bud Ferillo, Bernice Robinson, Esau Jenkins, Millicent Brown, Tammy Wine and many more. Her courage sustained so many, and we have collected stories from Candie Carawan of how Guy would drive Septima about, and then Bud often reminisced of seeing her walk into a room with dignity and purpose.
We loved hearing from her grandchildren, and learning of "Mama Septie". and how she managed their lives and still kept her strength supporting so many others.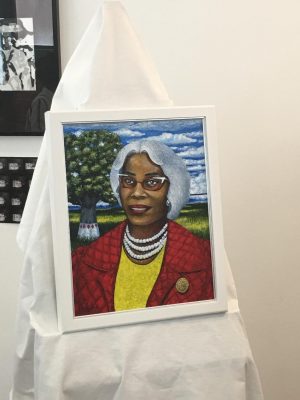 Today Jonathan Green also presented a portrait of her that will hang in the Hill Gallery at the Halsey at 161 Calhoun Street. Take a look – he added pearls. Yes, she was a pearl.