Founder's Day at Charles Towne Landing – Day 1
April 12, 2014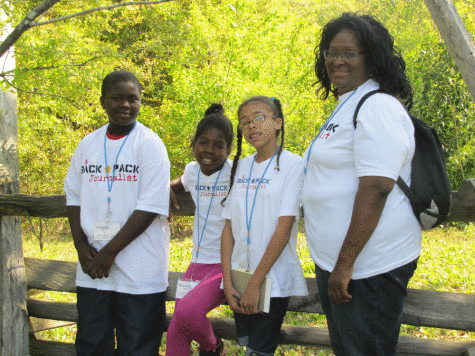 Founder's Day at Charles Towne Landing brings together dedicated volunteers who love to participate in the reliving of the founding of the Carolina's in 1670.  The name came from King Charles, who was the King of England, and Carolina?  Caroline was the name of his daughter.  Thus, the birthplace of the south.
The Adventure, the replica of the trading vessel anchored at the edge of the inland waterway, is the size of a large tractor trailer and was used to move people and farm animals and food stuffs up to the settlement.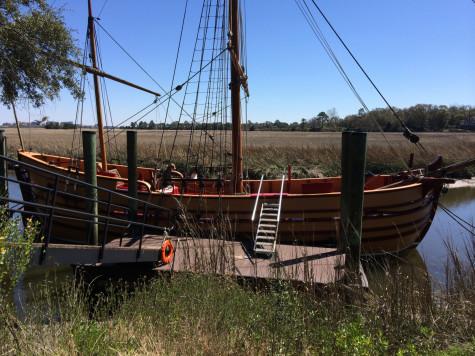 The canons sitting up on the hill were used to protect the settlement from the Spanish invasion.  On this Founder's Day, the volunteers were lined up to sample us with the sounds of the canon sounds and musket fire!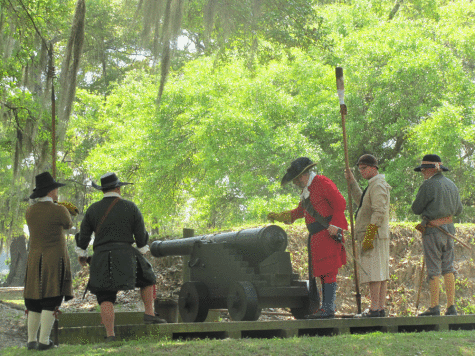 The canvas tents and tee-pees were actually made from the sails from the ships for temporary housing for the settlers, and the small houses with their dirt floors is where the entire family would live, eat and sleep.
A group of backpackers spent the morning visiting with the volunteers and staff from Charles Towne Landing, and now are planning to go back for a behind the scenes visit with the archaeologist at his lab on site.  Seems that the history that shares the life of the settlers and the birthplace of the south is often discovered by the archaeologist and their staff.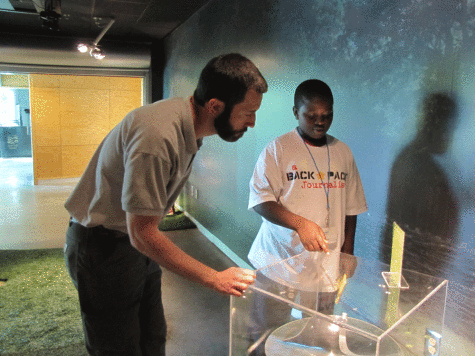 We were able to view through a case several of the artifacts found, but it was just enough to encourage our team of backpackers to want to go behind the scenes to learn about the science behind a dig, what happens to the articles/artifacts when found!
We are heading back soon – and will be collecting short videos and writing articles about what we learn!