How to Become a Citizen's Journalist!
Atlanta, Georgia
June 1, 2013
No writing experience required.  That's right.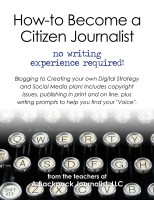 A Backpack Journalist – teachers have assembled a guide to becoming a "Citizen's Journalist!" and achieve "News Literacy".
What's that to you?  In our world of fast changing news, the Internet and Social Media, just how do you take it all in – and make sense of it.  Should you or should you not, set up a blog, write a letter to the Editor when a community matter is of most importance to you?  What's the best way to communicate – via a written letter, email, tweet or ?
A Backpack Journalist' guide has been assembled to help with these decisions, and to provide you with step by step instructions to follow.
This guide will also help define the words:  "News Literacy".   What's this you ask?  How can you as a private citizen, often dealing with limited time and in our  fast paced world, make the determination between facts and fiction?  Is it the reporter's personal opinion, or facts?
This book will be available for shipping October 1, 2013!  $24.95 each/shipped via priority mail.
All reserved copies/prepaid orders receive a free coupon for a 20-page A Backpack Journalist Portfolio, 20-page photo book in color.
Follow this link to reserve your copy!