Inspiration Film Projects beginning at Burke High School on June 19, 2017
Documentaries to Film Shorts! Film Makers from 4th to 12th grade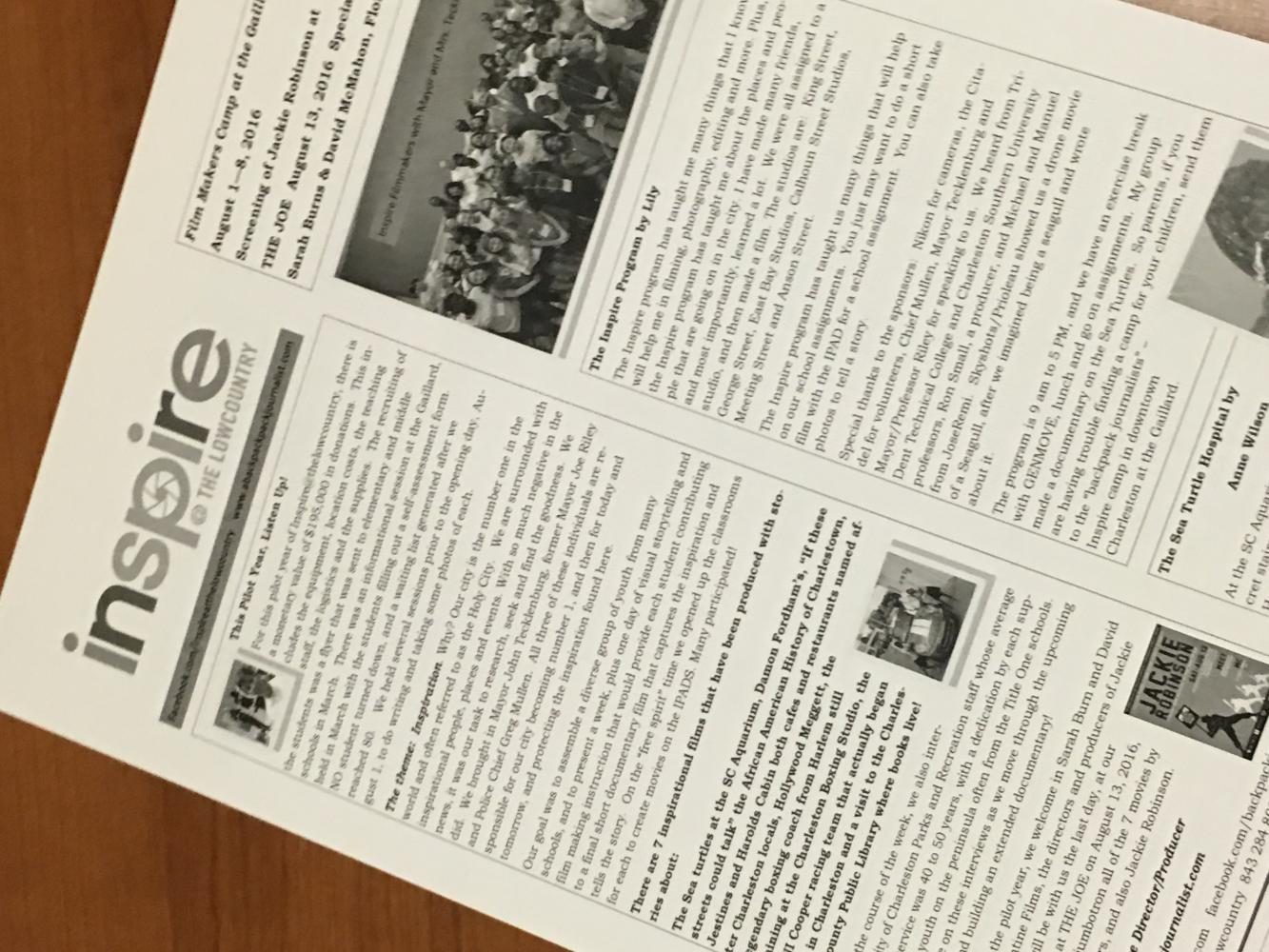 FOR IMMEDIATE RELEASE:          June 8, 2017
CHARLESTON, SC – Inspire at the Lowcountry Young Filmmakers Academy, being held at Burke High School and East Cooper Montessori Charter School, for low country students this summer announced today film making projects.  Each film project includes research on the topic, interviews and filming of people and places pertinent to the topic. Inspire Film students participate in storytelling, photography and filmmaking instruction prior to the start of their chosen film project.  A Backpack Journalist  and PIXAR lesson plans form the foundation of each student's training.  Our goal is to inspire all students with the love of storytelling and filmmaking.
 The film projects are:
A Kid's Guide to Charleston     www.kidsguidetocharlestonsc.com
It's historic houses, museums and the best candy shops around! We are the only city in the United States with the four corners of law.  So where is it?  We have the theater, colleges and in the park exhibitions. We have the Charleston Harbor, and lots of boats.
What's for just the kids?  We research, explore and photograph and write all about it.  Our results will be found in a short film, website and included in our back to school "A Backpack Journalist newspaper"
This project will be on going for the afterschool programming offered by Team Backpack Journalist.
PSA's – public service announcements "ARTSMATTER Day – September 12, 2017
A Backpack Journalist/Team Backpack Journalist is a member of the Charleston Regional Arts Alliance.
All film students will have the ability to create their own Public Service Announcement to support this special day. All students are challenged to get creative, thinking out of the box, and then writing up their own script, and with the help of their team mates – shooting their own 30-seconds. All 30-seconds are then submitted to local area television stations for a PSA broadcast.
Legos Inspire Storytelling
It's all about the story. Lego characters encourage the imagination and storytelling!  From the written story, and then index cards describing each scene and script, students will create their own animated short using iPad and iMovie and filming and editing techniques.   Always as an option, students are encouraged to draw their own characters!  Make their own audio!
SC Port Authority, SC Economic Engine  
South Carolina's public port system is the state's most significant strategic asset. Its connectivity to the global marketplace influences economic development and job growth, and its commitment to capable, competitive operations will deliver positive impacts to the state and region for years to come. One out of eleven jobs in SC benefit from the port.
A Studio Team will be touring and writing about the Wando and Columbus terminals each week, and then following the chain of distribution to the local BMW dealership on highway 17, Hendrick Automotive.  A final film will be included in a QR code within the CARS, PARTS & PORTS book to be released in August, 2017 for distribution to South Carolina schools.
"The Life of Esau and Janie Jenkins".  A preview short and full length documentary
In depth research and a timeline developed by Mrs. Betty McMahon provides the students with an overview of the life of a local civil rights "unsung" hero from Johns Island. Educators have been searching for African American stories about those in South Carolina who played a prominent role in Civil Rights.   Mr. Esau Jenkins life's work is one to be recognized and studied, along with his wife Mrs. Janie B. Jenkins. He passed away in 1972, and Mrs. Janie in 1998.  Of significant importance is the Smithsonian's National Museum of African American History and Culture exhibit showcasing Mr. Esau Jenkins' contributions.  On display is a bus panel from the Volkswagen Microbus that he used during his community and Civil Rights work through the south.  There are also video clips within the museum where he speaks of his work.   It is expected that this project will continue through the fall, afterschool and finished for a spring, 2018 screening.
Cultural Belongings      www.culturalbelongings.com
Team Backpack Journalists film with the SC Military Museum, in Columbia, SC: "In their own words – Oral Histories of SC Vietnam Veterans" closed with an interview of a retired SC Aviator, from the Ioway Tribe in Kansas/Oklahoma.   We spent several hours with him as he described in detail the Warrior Ethos found in the culture of the American Native Indian tribes.  When he returned from Vietnam – a blanket was wrapped around his shoulders and a special ceremony held.  Dennis went onto to describe the true meaning of the warrior and we were so inspired. We then discovered TRIBE, a book by Sebastian Junger. TRIBE is not a book solely focused on the military, but on the evolutionary process that has changed our society into non-communicative and disconnected groups of people.  Often it takes a tragedy to bring people together or back together.  TRIBE contains data included to support Junger's theories. This film project is a collection of stories of groups of people who communicate and are connected and work to make our society and world a better place.   Mr. Junger has been interviewed and provided us with a strong foundation to begin.  This film project continues through 2017 and plans are to screen it in 2018.
Team Backpack Journalist continues to collect oral histories of Veterans, with a focus on South Carolina Vietnam Veterans and work directly with the South Carolina Military Museum.
About Team Backpack Journalist    "Building resilience through creative expression"
Currently serving youth in grades 4th to 12h, our mission is to provide scholastic journalism and storytelling curriculum in workshops and after school programs. Our curriculum includes writing, poetry, photography, film making and digital and social media. We publish outcomes in publications, videos and films, written and produced by our students. Our partners include Burke High School, East Cooper Montessori Charter School, Charleston County School District Technology Department, CANON, APPLE, iOgrapher LLC, SC Port Authority, Hendrick Automotive of Charleston and North Charleston, City of Charleston, The Citadel, Professor Joseph Riley, Jr, Family of Esau and Janie Jenkins, Sebastian Junger, and the SC Military Museum.
843 284 8026   [email protected] Cell is 843 582 2794