June 15 – 2023 – We celebrated!
June 15. We celebrated at Big Billy's !
We were joined by Mr. Joyner, a former principal at the Sanders Clyde School, who once made sure these young people began their first educational experiences a success (and fun).  He came as this was as important to him as these young people, perhaps this was a first time he was able to connect back to former students – as they graduated.  Mr. Joyner we love you for coming – honored to have you with us!
Brad Davis, former EVP of Hendrick Automotive – BMW and MINI COOPER. And a major force in our Charleston Community – always helping non profits and spending time with kids who needed a male model!  Recently, he chaired our local United Way as they held a nationwide search for a new director.  At one time he actually was a MINI Race Car driver, and won many races!  Can one imagine?  Brad led all of our automotive lessons, and by the time of our STEM Festival, all of these students became experts in describing the workings of the engine.
Linda Dennis – Program Manager.  The A Backpack Journalist program was first utilized by Military Kids, often considered at risk due the Deployment by their parents. Coming home to Charleston, with the help of then Mayor Joe Riley, then the Charleston Promise Neighborhood – and local area civic minded companies (ie see below) and people who wished to be involved, the program began to serve Title One Schools. The June 15 – celebration was quite emotional for Linda, as here they are – the students made it, graduated and soon on their way. She kept up with each of them after they left Sanders Clyde via Social Media, and was often on line watching over, and also in touch with their mothers.  When they were available, yes kids are so busy as teens, they met for "baconators" and serveral times worked on additional projects.  "So Proud!"
And while many of the corporate sponsors commented in their letters, "the A Backpack Journalist programming as being a part of each of the student's success" – at the gathering Linda was able to hear from each their special memories, ESPECIALLY what made A Backpack Journalist a great experience and difference in their life for each.
Coming soon – the secret to the success of A Backpack Journalist program as shared by the "Group of 4".
Denny Wilkinson could not be with us – but the "Group of 4" talked about him – with great fondness!! Thank you Denny for being a great volunteer sharing your professional years of marketing!
Corey Shaw -another former principal – and we missed you – IE and understand kids needing you are home!  We love you too.
Students:  JaDen, Dorian,Stephan, and Amir – (missing a few but we are in search now)
Background:
We first met these four – when they were in 4th grade at Sanders Clyde School, and in our Afterschool program – A Backpack Journalist – supported by the Charleston Promise Neighborhood.
In going back over the COUNT of students, we had at least 12 – then 8 followed us over to St. Julian Devine to finish out our programming, Year 2.  The Afterschool provided by the school district that took over, did not want us to work or compete against their own.  What at first seemed to be a negative move, well – it was not.  All positive allowing us to expand and providing more experiences. Now look at these young people – they graduated from high school.  Missing are 4 more that also graduated and we are now reaching out to them.
As a result of our relocation to St. Julian Devine, a city park next door to the school, we were able to offer extended hands on experiences, bring together the Charleston community to these young people and at the same time lesson plans that included photojournalism and storytelling.
Reflecting:  The A Backpack Journalist programming was designed to be a diverse collection of hands on activities and real-world experiences to include photojournalism (Interviewing)  – film making -and real-world engagements. – Often we thought of our program as a Kaleidoscope of life, and a perfect entry for all students, and we encouraged curiosity and creativity and brain storming sessions –  making sure all questions answered, and venues that tell the story of where we lived visited, and the people interviewed. BEFORE any experience began, we spent classroom time in sharing detail information on each, studied their overall business model and prepared the students for the upcoming tour/interviews. Each student was prepared!
For June 15, we reached out to several of our corporate sponsors and the City of Charleston, Mayor Tecklenburg's office,  to seek a congratuations letter and any swag that they wished to donate. These corporate sponsors provided experiences to financial donations.
Bakari Sellers, became our Angel from the very beginning as he came to class with us, introduced us to Senator Hiliary Clinton and then with his father's support – made available a week at Vorhees College for a summer experience for all (best of all Vorhees food services had a breakfast buffet of waffles)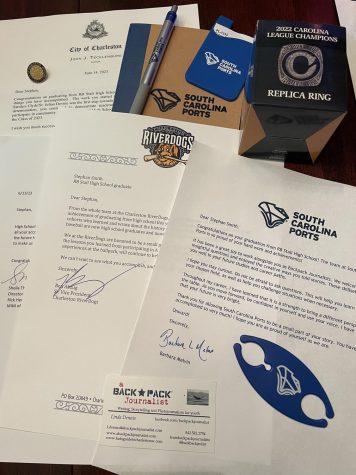 For the day we also had made lots of 4″ x 6″ color prints for the "Backpackers" to enjoy, and they did.
The collections of pictures follow, sharing the fun all had.
The photo gallery here showcase from the RiverDogs – 2022 CAROLINA LEAGUE CHAMPION REPLICA RING! WOW!  The SCPA donated each a gift bag of writing and tech materials, and the City of Charleston – a memorable pin with the City of Charleston logo.