Kid's Fair – Charleston, SC! Burke High School rocked with fun!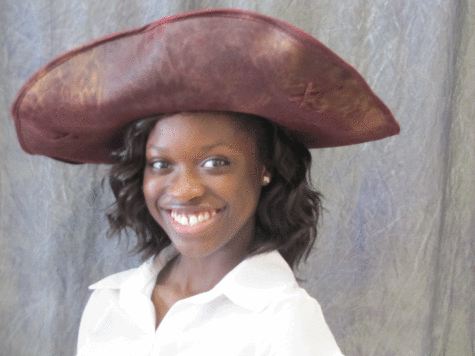 Charleston, SC – March 23, 2014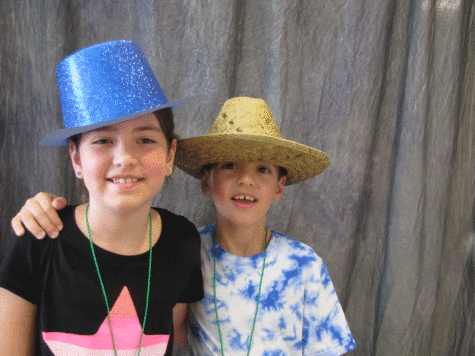 Lights, Camera….and Hats!  A Backpack Journalist spent the day at Burke High School with cameras and hats, and lots of kids stopped by to pick a hat and "smile".'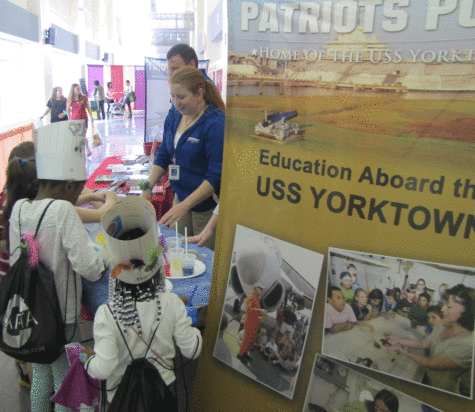 Kid's Fair, now in the 26th year and is one of the most popular Sunday events in Charleston, South Carolina.  Sponsored by the JCC and a host of other local companies,  Burke High School was filled with booths and exhibits all focused on Kids!  Creepy crawlers and reptiles to safety helmets for kids had long lines waiting just to see and touch.
Inside and outside music played throughout the day, and the stage was filled with dancers, those that could hula-hoop and some of the favorite local sports mascots that appear with the teams and programs.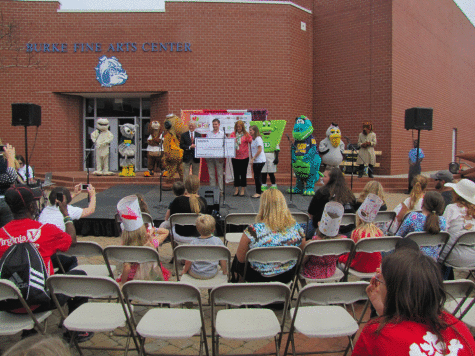 Mayor Joe Riley was there to accept a check/donation from Kohl's that earmarked MUSC.  Kudos to the local Kohl's employees for their support of the local MUSC programs.  Note on the stage with the Mayor, the entire cast of mascots who were walking the Kids Fair, and eager to have the children shake their "hands" or do a "high five" .
Picture taking everywhere, balloons, games to play and prizes to win.
We have been to many events that highlight activities for kids and families, and this will remain one of our favorite for many days to come.It has  alot to do with all the  walking visible special guests  – the mascots,  like The Stingray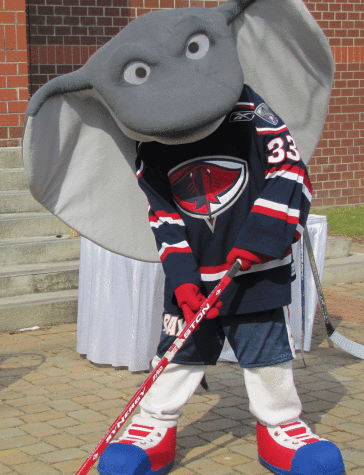 (from the Charleston, South Carolina Ice Hockey Team) and the Owl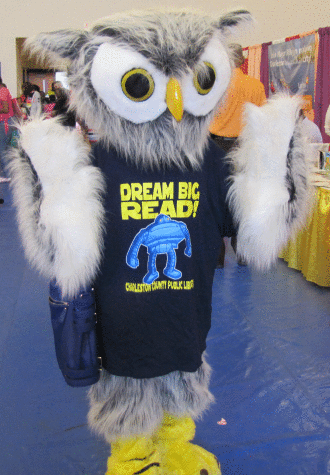 that encourages reading from the Charleston County Public Libraries!  Having the mascots present is like bringing a "magical" feeling to children, and lots of pictures were taken!. Shown here "only" two of the cast!
The opening – began with a presentation of colors by the Burke High School, JROTC – Color Guard!  This was so respectful and appreciated.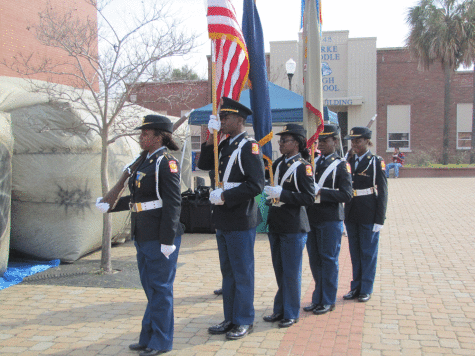 So in the open courtyard, in came the US Flag, The State of South Carolina and the Battalion Flag, with each member of the color guard in total step and unison.  Then, following the pledge to our country!
LEFT GUARD:            CADET/ CPT JOLISA  HAYNES
U.S. FLAG:                 CADET/ 1SG JAHSAI  FISHER
 STATE FLAG:            CADET/ 2LT JASMINE  PEARSON
 BATTALION FLAG:  CADET/ SSG LYNTORIA SIMMONS
 RIGHT GUARD:          CADET/ CPL VIOLET SIMMONS
 COLOR SERGEANT:  CADET/ MAJOR CHARNAY ALSTON
 CADET BATTALION COMMANDER:         CADET / LIEUTENANT COLONEL MARCUS EVANS
 CADET BATTALION COMMAND SERGEANT MAJOR:  CADET / COMMAND SERGEANT MAJOR DIAMOND SCRIVEN
 ARMY INSTRUCTOR GROUP: SENIOR ARMY INSTRUCTOR:       MAJOR (RET.) JOHN DUNMYER, III
ARMY INSTRUCTOR:SERGEANT FIRST CLASS (RET.) JEROME VANDERHORST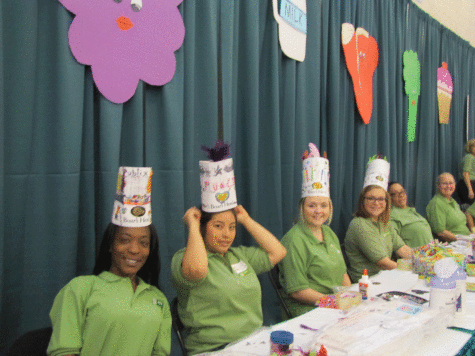 The  exhibitors in the halls  filled with tables for the kids to make and take -and one of our favorites was the PUBLIX – line up of vegetables and their staff sitting below!  See the crafty hats!  So the kids sat down with lots of glue and glitter and a hat cut out to decorate!
Then, there was one young lady with a reptile wrapped around her arm, the Charleston Police handing our safety helmets,  lots of big trucks and fire engines and even a school bus!
Best of all were the little kids who loved our hats and stopped to pick one and then to step into our portable hanging fabric and smile!
For over 150 pictures of this day's events please visit our sets on Flickr.com  Link is below.
Thanks to the JCC  for inviting us in and sharing this day with the Charleston, South Carolina community!
VISIT our Flickr website for the full photo portfolio of pictures.  Hundreds are there to enjoy!
Special thanks to the exhibitors who signed on to helped support this day and the event's sponsors for the 26th year!
Jewish Community Center of Charleston, Publix, Apex Broadcasting, Charleston County Public Schools, Harbour, TD Bank and " WCBD-TV  count on 2″.
PHOTOS:
https://www.flickr.com/photos/[email protected]/sets/72157642831281085/