Looking forward!
Before we do – let us share our thanks with all!
Linda Dennis, Program Manager - so honored to be!
December 20, 2018
December 20, 2018
Our weather has been changing, from warm to cold, to days with sunshine and then freezing! One parade delayed and resheduled, and another, held but it was misty rain and our decorations would have been ruined! Whew, what a December!
Our first newspaper printed, and delivered by our backpackers and the Charleston Parade went forward, and we had a wonderful time! Thanks Rick Hendrick for the big red Dodge Ram TRUCK! WOW!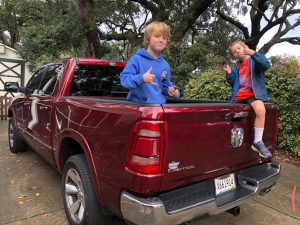 SHARING OUR THANKS!
With thanks to the parents of the "backpackers" who say to us: "whatever you need, we are there for you!". Yes, they walked the entire Charleston Parade Route with us, and even put on the Backpack J – shirt! They came to the Light the Lake (Colonial Lake) and helped roll our newspapers, and then walked with the backpackers! To "Olivia" go brave one – as you walked up to Mayor Tecklenburg and handed him a newspaper!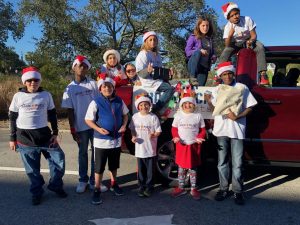 With thanks to their children, "backpackers" for loving participating in all of our "Cover the Assignments", to interviewing and writing and taking great photos and making short video stories, and from art galleries to listening and engaging (leaning over and asking questions) when guests come in, to share documentary photography (thanks to the Halsey Contemporary Art Museum at the College of Charleston- Lizz!). To Collections, at the Addlestone Library, and their staff, who allowed us to research our stories! Best yet was when Harlan brought out the 900-year old paper! Harlan, you really know what kids love to see! Our tree in Marion Square, filled with story balls.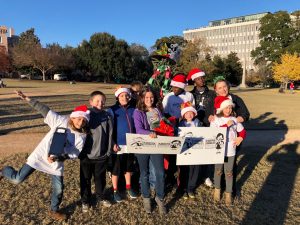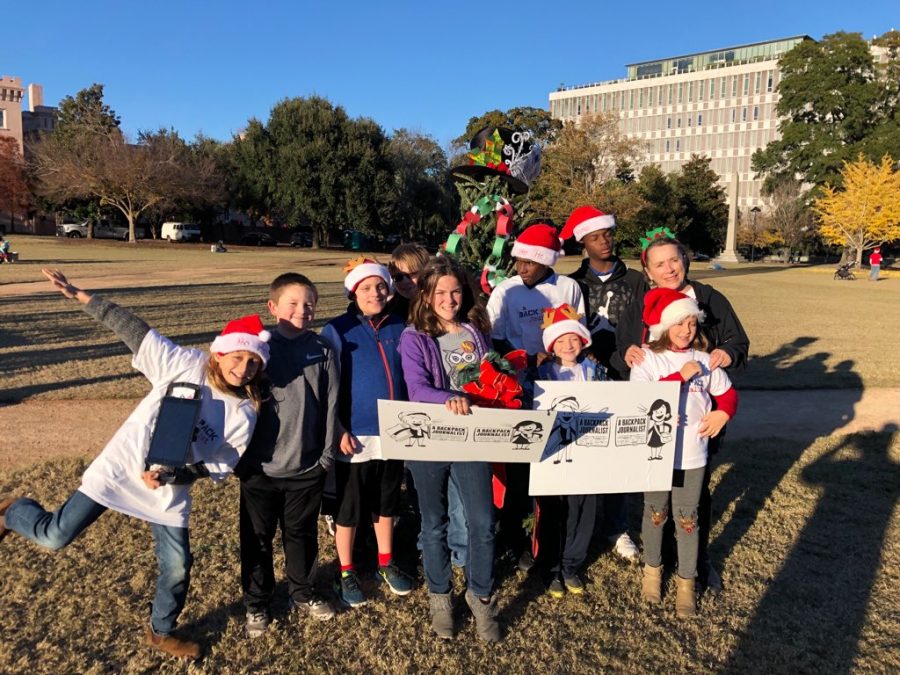 With thanks to the entire staff, teachers and especially the principal of Orange Grove Charter School for their support of our afterschool activities! One of our field trips took us downtown, with the principal driving the bus, and then we especially remember the stop at Duck Donuts and the happiness that we all had while eating our donuts on the way back to the school! You rock Mr. Clendaniel!
With thanks to all in the community around us who opened their doors, especially the Post and Courier, and Dan for his tireless tour info! The "backpackers" really loved watching the conveyor belts hard at work!
With thanks to Channel 4 and Dave for his great weather advise, and he and Sonya for welcoming us in for a hands on experience, even the "Green Screen" experience. What a great learning experience. Dave thanks for speaking to us Sunday, at the Charleston Parade! See you in 2019.
With thanks to Patriot's Point and the USS Yorktown for bringing history alive and welcoming in our "backpackers". (and Hank and Benny often) We love visiting and learning.
With thanks to Byrd's Cookies. Ok, so they are new here in town and from Savannah and early on, and the "backpackers" loved visited their stores, and sampling at the "Sample Bar". CRUMBLES is our friend and often the "backpackers" make short movies and stories about their mascot! Reggie and Hydie you both rock!
With thanks to Stan Foxworthy, a talented photographer, who came in and spent time with our afterschool, sharing his incredible skill behind the camera. Stan, the one photo you took in Washington, DC, of the man with the red umbrella is always talked about.
With thanks to Gabi, whom we met at our Oct. 4 Film Fest at the CCPL, and her incredible article she wrote for the Sisten, College of Charleston about our Film Fest. And, then we met her at the Buxton Books book signing, and she is now apart of our programming! Go Gabi we love you!
With thanks to the Allendale-FairFax High School and their staff for welcoming us in to present our Charleston Maritime Film, and present from the "Stories of Community Courage during the Civil Rights ERA!". Michael we could not do this without you! Kudos to you and your beautiful voice and ability to work with the "backpackers". (Angie you rock!)
With thanks to Gracie and Lacy! For their bringing alive the music from the "Swing" era while at the same time showing us the Charleston Dance as the Grinch wondered about! Talented abound! Can't wait to work with you both on the History of Baseball and the music from the era.
With thanks to the RiverDogs and their open door for our summer camps ahead! The History of Baseball, begins there, as does Larry Doby's history! Love Mike Veeck, Ben and the entire staff – especially Charlie! Looking forward to 2019!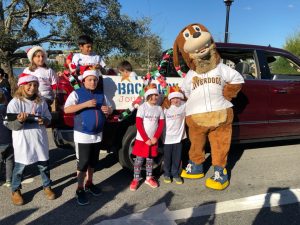 With thanks to COlR Harrington for sharing with our Team, what it takes in life to succeed! Sir, we thank you! (See article about his visit!)
With thanks to the SC Port Authority and the Charleston Branch Pilots – and the US Army Corps of Engineers – for an amazing experience summer 2018! Our film is on line and shown here and what an experience! THANKS! PS Mr.Moore, the CEO of the IAAM, your visit with our backpackers keeps-on-keeping-on! We are back in Beaufort soon to gather more stories about your Great-Great Grandfather – Robert Smalls. You inspired us sharing a story about you our ages!
With thanks to Bud Ferillo, Jack Bass, Cleveland Sellers, Cecil Williams for your willingness to participate in our "Stories of Community Courage during the Civil Rights Era" – and to the entire team of "backpackers" for their dedication to learn their script, be trained by PURE theater's Rodney Lee, and to all – THANKS! More to come! (Ps SCAC we thank you for your grant and interest in our research and work, as we contribute peer to peer!).
With thanks to the City of Charleston' fine restaurants that find all the backpackers there, loving the fellowship, and Ms. D – often finding a high top stool at Harold's Cabin! YUMMY!
With thanks to the City of Charleston, Cultural Affairs, and can't say enough thank-you's for the support we receive from their willingness to come in and share information with our "backpackers". (City planning, Cultural Affairs the Boat Parade and Christmas Parade – Scott, Basil, Ray – loved your presentation!)
With thanks, to Mayor John Tecklenburg and Sandy, loving wife and great supporters of all that's good in this world! We thank you for always recognizing our "backpackers" and spending time with us! The "backpackers" shared with this writer: "they rock!". thanks to you both, the "backpackers" look forward to seeing you soon.
Looking forward to a wonderful – 2019 – more experiences to come – Cover the Assignments and to some "road travel" and with our classroom in world abound!
Go Team Backpackers! (and if we left anything out, stay tuned more to come)
A special thanks to the Orange Grove Charter School "backpackers" , Mrs. Harrison in the lead and the Staff at the library. The GROUP HUG as we closed our session before leaving for the holiday meant a lot!