"Mom, you rock! Syanne's words to her Mom, Sgt. Robinson, Georgia National Guard!
ATLANTA, Georgia – Callanwolde Fine Arts CenterV.E.T.S. – Veterans Expressing Their Stories
Sunday, November 10, 2013
An afternoon of sharing of memories and storytelling by Veterans started off with a daughter walking up to the mike and sharing with the audience of 100 or so, her experiences as a military child while her Mom deployed two times.  She spoke of her Mom's deployment to Iraq, and then years later,  Afghanistan, and how it all began when she was just three.  There was once when she had packed her bag to go with her Mom!
With her Mom and Grandmother sitting in the audience Syanne spoke of her pride in her Mom's commitment to serve, and she closed with – "Mom you rock!".
Her Mom is Sgt. Robinson, of the Georgia National Guard and now   back home!This is the second year the Callanwolde Fine Arts Center assembled for a afternoon of storytelling with Veterans in honor of Veterans Day, with the support of the Southern Order of Storytellers.  Amongst the music, and solos from several youth, each Veteran stood to share. Beginning with the granddaughter of Anthony Henry,  an Indian War Veteran( 1981-1875), we learned of an "unheard" of the 5th Brigade serving under Lt. Charles King as they made their way to support Colonel George Custer.
John Burson, a World War II Veteran, who served in the First Division was apart of the landing at Normandy, spoke of his memories of volunteering and then shipping out, and finding himself as a MP!  He was at Normandy and then went onto in Paris.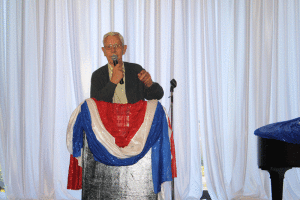 At the close of his story, he commented: "those that died were the brave ones, and deserve our respect today!"
Anthony Vinson, President of the Southern Order of Storytellers & a Veteran, spoke of his service during the "Cold War".  Simply put, "while it may have seemed we were not involved in war, lots was going on!"   Vietnam Veterans followed Ron Kemp and Larry England.  We all know that the Vietnam War Veterans came home without great fan fare, and today when they greet each other, "it's welcome home"!   Timothy Primus' Mother spoke of his service in Iraq and her experiences as a "Mom of a soldier".  She too serves today with the Decatur High School JROTC.
As the storytelling came to a close, Mary Elizabeth Kirkpatrick sang "My Country Tis of Thee".    Mary Elizabeth is not yet ten!
It was a lovely afternoon and the flag was recovered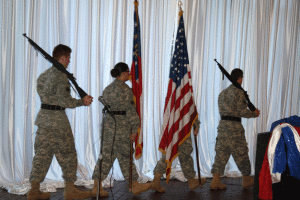 by the Decatur High School JROTC.
Refreshments were served.  It's like a southern thing, to always offer food at events, allowing for social conversation to continue.  It did, with each Veteran being thanked once again, and again.  God Bless America! Thanks to the organizers, which included Harold l. Roberts, Commander of the VFW Post 4706, Southern Order of Storytellers, and the Callanwolde Arts Center,  for these types of gatherings that allow us to pay our respects quietly and have some one on one time with Veterans who have sacrificed so much for us.