Nature Storytelling! Written by youth for youth! It's all about Fossils and answers some of the questions about Mother Earth!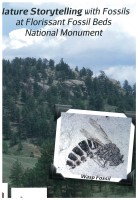 Need a great educational gift to give this Holiday season?
A Backpack Journalist workshops for military youth produced Nature Storytelling with Fossils, a book that highlights fossils found at Florissant Fossil Beds National Monument.  The full color book is appropriate for children  grades 3 and older and is available in both paperback and eBook versions.  The book also contains QR codes that connect to websites for further research about fossils.  It's in full color and 9″ x 12″ – Portfolio Book.
Content includes:  A Visit to the Visitor's Center, Fossils:  Redwoods, Insects, leaves, Fossil Demonstration Lab, Hornbek Homestead, A visit with Senator Mark Udall (D- Colorado), Junior Park Ranger Program, National Park Service Programs, Post to Parks, and about the youth who researched, wrote and learned about fossils.
Click this link to order online.  For credit card purchases, please call 404-314-8007.
All major credit cards are accepted.
The purchase of this book allows military youth to attend FREE Workshops in 2014.  We donate $5.00 of each book sale to the Friends of the Florissant Fossil Beds National Monument to help us return in 2014 and provide free workshops!
http://shop.nationalcowboypoetrycompetition.com/Nature-Storytelling-Florissant-Fossil-Beds-National-Monument-HCA100.htm