Service Unites at the Points of Light Conference, Washington, DC
#NCVS  #1AMERICA
DAY 1:  Volunteerism unites!  That's the "word" coming from the sessions at the Points of Light Conference in Washington, DC.  Backpackers (Daniel, Hannah and Jessica)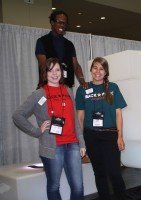 covered the exhibit floor first and stopped off to meet and speak with company representatives and the volunteers from all over America!
Our goal was to gather the stories, and to share them via our Sound Cloud/Facebook.
(www.soundcloud.com/abackpackjournalist)
Each of these companies provides support for the non-profits and volunteer organizations attending the conference.   The booths were filled with products, services and support for the volunteer!  We spoke with software designers who designed a website and system to help connect the needs in the communities with the individual looking to volunteer.  A group of young women came together to form an organization to help reach "millennials" in their own communities.  Why?  To provide a connection between the need and the young person often needing a challenge!  And, we closed out our day by spending time with a couple from IOWA who helped develop a food packaging service that helps to feed starving populations around the world as they watched the volunteers pack food packs for 100,000 in need!
As we worked the exhibition hall, we learned quickly that when we asked "why" they volunteered, often the answer was, "why not!"  We heard a lot about giving back and the importance of being there for those in need.  Passion for a cause was at the foundation of each effort.  And, the "feel good" came from giving and not receiving!
By the close of the afternoon we had over 25 recorded short interviews and hundreds of photos  Day 1, and then another 19 on Day 2, plus we attended many of the workshops!  ( more reflections on this in next article).
An observation:  Daniel, Hannah and Jessica each are teens with a purpose and talents. They each volunteer and give of themselves in their own communities and are a major part of the A Backpack Journalist program and family.  When we travel and work together, there are special moments that cannot be captured in words.  When our Cover the Assignments come to a close, it's always a hug goodbye and a job well done.
There is something about watching creativity blossom within a young person that is indescribable, and joyful!  As each grow into adulthood, stand back world!
Listed below is an index of the interviews.  Please follow this link to listen:  
www.soundcloud.com/abackpackjournalist
Hannah – June 19, 2013
 Repair the World- Aria Auerbach
Blue Star Families- Sheri Lapan
Fifty Forward RSVP- Liane Proctor VOLUNTEER
KidsCare – Outreach – Rick McNary
Jessica – June 19, 2013
Student Conservation Association-  Alvi Seda (Southeastern Recruiting Coordinator and Director of the Diversity Initiative)
One America- Dewey Thompson (August Jackson) Chase (Makes commercial for POL ending ceremony "future of service and how it unites."
Bristol County Office of District Attorney- Cecelia Porche
Volunteer Match.org- Matt Wallace and Laura Ellis
First Book.org- Brian McClimans
National Service Works for America:  Americorps and Seniorcorps (no interview)
The Presidents Volunteer Service Award- Melanie Stevenson
Pearls with a Purpose- Wendy Bird  (has backpack charm)  www.pearlswithapurpose.com
Truist- Denis Brennan and Matt Comanda
Innovations for Learning/Tutor Mate- Tiara Tess
Marymount University- Maureen Dour and Alison Malloy
Grameen Foundation/Bankers without Borders- Sarah Dickson
Peace Corps- Allyson Snell
Disaster Distress Helpline- Joe Samalin
Trachtenberg School of Public Policy and Public Administration- Bethany Pope (Dir. Of Graduate Studies)(Grad Student),(Public Relations)
KidsCare Outreach Program- Rick McNary and Jackie Matt
America Learns- Gary Kosman (Americorps Compliance Specialists)
DC Internships.org (The Fund for American Studies)- Kristen Wright
ITT/Exelis- Leah Lackey and Sylvester Placid (Lead Sponsors of POL- Lunch)
Outreach, INC.- Kathy Hamilton and Floyd Hammer (Food Packaging Event in the evening)
Bank of America-  Kerry Sullivan
Jessica –  June 20
 Good and Ready- Adriana Ogaz (VOLUNTEER with Denver Public Schools)
Samaritan Technologies- Todd McMullen
Booker Promotions- Neil Kalnitz
V-SysOne (Volunteer Management Software)- Jill Renwick
Commercial Investigations LLC- Dale Smith
Hostelling International USA- Amanda Dwyer
GiveGab (Social Network for Volunteers)- Dominic Finney
Eastern University- Sharlene Joseph Brown
Good Influence- Dan Lynn
For Goods- Chelsea Lambert
Hands on Connect (Volunteer Management POL)- Alison Lebreton
9/11 Day of Service and Remembrance "I Will" – Colleen Farrell (My Good Deed)
The Mission Continues- Oliver Gould (Partners with 9/11/"I Will")
Mileage- Mike    and Jeff Aguero
Adler School of Professional Psychology- Lenny Asuncion
National Park Service- Ann Marie Emmet
9/11 Day of Service and Remembrance "I Will" – David Paine (Had a colleague, Jay Winuk, who lost his brother, Glen, in the 9/11 attacks on the World Trade Center)
9/11 Day of Service and Remembrance "I Will"- Pedro Guardado (veteran with The Mission Continues)
USA Good Deed.org – Guadia Ray Sarna