Orange Grove Elementary – Backpack Journalist
Afterschool Enrichment class- learns all about participating in a democracy!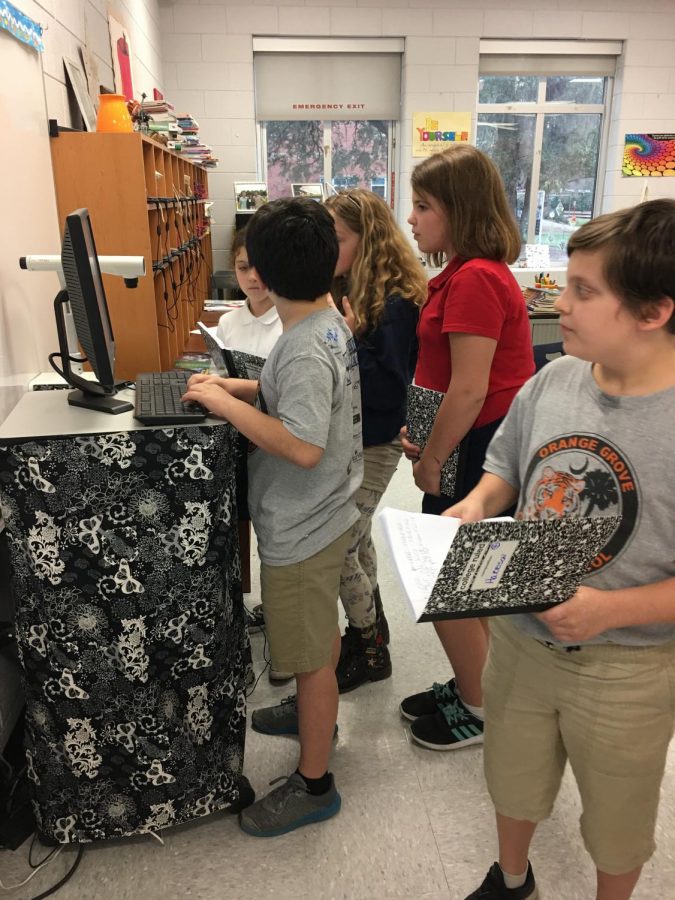 TO:      The Members of City Council, Charleston, South Carolina
FROM: Team Members of A Backpack Journalist/afterschool                                       enrichment program: Orange Grove Elementary School
RE:      Plan West Ashley, a visit to our classroom by:
Mandi Herring, AICP|Operations Manager
City of Charleston|Department of Planning, Preservation &                       Sustainability
We like the idea that the present Citadel Mall area would have added living space, a park and lifestyle related businesses.
We all agree that West Ashley should have more parks for our citizens to enjoy.
We learned all about the importance of zoning, and that it protects us from businesses that should not be near schools. Thank you.
We learned that West Ashley today consists mainly residential neighborhoods, and that the goal is have businesses to build offices that help in the economy of West Ashley, cut down the workers' commute and lessen traffic in the area.
One of our main concerns is what happens to the animals that are presently living in the vacant land. May we suggest a habitat area, for animals that are not harming the economy and the environment? Plus, we hope to see more dog parks set aside.
We walk, ride our bikes and have adventures on the Greenway. We hope to see the Greenway extended to connect one day with the Low Line of Charleston. Many bike riders love the Greenway and want more trails to follow in the off road.
Oh no, the traffic! Thank you for buying the Piggy Wiggly building at the intersection of Sam Rittenburg and Old Towne Road. We hope to see a garden or a park there, and understand that the city and the county and the state are all meeting to solve the traffic issue.
In closing: Ava began with that our experience with Mandi was eye opening. Lucas shared that last week we took time to learn the importance of city planning. Harrison was unable to attend our class and we shared with him what we learned. Mia enjoyed learning about new lands. Piper made sure we expressed our feelings about the greenway. Nicholas brought up the importance of good infrastructure. Kate and Hannah closed our letter by sharing last week that we learned about the Plan West Ashley. Thank you for listening to our comments, and we are excited to be participating in the Plan West Ashley.
Signed: Ava McNeil, Cooper Fisher, Hannah McLaughlin, Harrison Comen, Kate Selvitelli, Lucas Parra, Mia Licayan, Michael Martin-Hoffman, Nicholas Brown, Piper Brown and Linda Dennis, A Backpack Journalist, Program Manager.