Our night at THE JOE, the RIVERDOGS – Larry Doby Weekend
Larry Doby, # 2 behind Jackie Robinson! A great baseball player, and role model!
A group of Backpackers attended the RiverDogs Game on Saturday Night to honor Larry Doby,  #2 behind Jackie Robinson in 1947.
So who was Larry Doby?  Mike Veeck's Dad – Bill Veeck recruited Doby from the Negro Leagues and brought him into the Cleveland Indians about 6 weeks after Jackie Robinson broke the color line.
So how hard is it to be number 2?  While Jackie got all the press and attention, Larry did as well, but without the fanfare!
Doby was an incredible ball player with his stats often surpassing all players.  He also upon retirement became a manager and continued to work with you.  We loved the fact that he was from Camden, SC and just learned that one of our program's good friends helped to build the Larry Doby Statue that resides in Camden!
Our Backpackers studied Larry's life, interviewed Mike Veeck and every year during the Larry Doby Weekend at the RiverDogs attend to pay our respects.  Our book – is shown here that includes Larry's life story and the interview with Mike Veeck.
We thank Mike for opening the door to Baseball for us, and especially for sharing Larry Doby's amazing life!
Be sure and visit the second level at THE JOE, and look for the Larry Doby mural that MUSC funded last year!  We were there.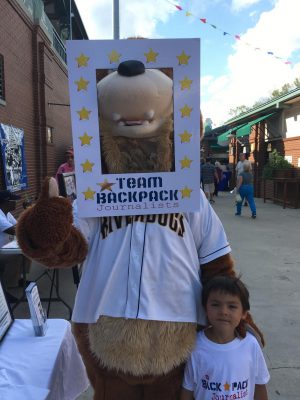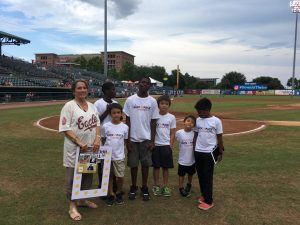 Arjun loves taking photos with our Ipads and Iographers! Thank you Apple!