SPRING BREAK CAMP! March 25 – 29, 2019! Registrations now open!
Register through our Kids Guide to Charleston, SC!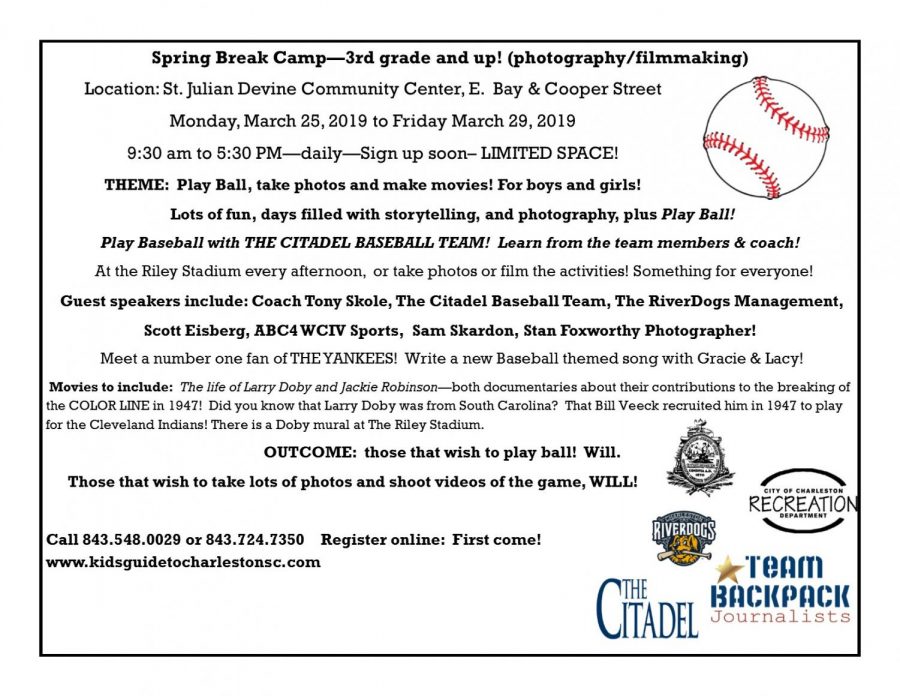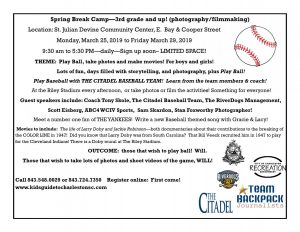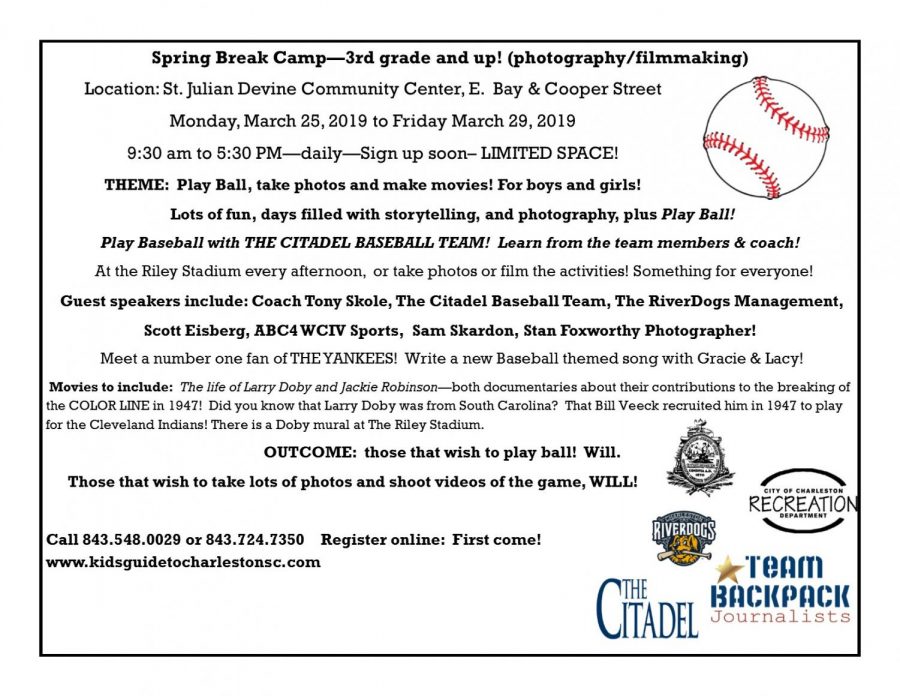 Spring Break Camp—3rd grade and up! (photography/filmmaking)
Location:  St. Julian Devine—E Bay & Cooper Street, Charleston, SC
Monday, March 25, 2019 to Friday March 29, 2019
9:30 am to 5:30 PM—daily (early drop-off available)
THEME:  Play Ball, take photos and make movies! For boys and girls!
 Lots of fun, days filled with storytelling, and photography, plus Play Ball!
Play Baseball with THE CITADEL BASEBALL TEAM!  Learn from the team members & coach!
At the Riley Stadium every afternoon,  or take photos or film the activities! Something for everyone!
 Guest speakers include: Coach Tony Skole, The Citadel Baseball Team, The RiverDogs Management,
Scott Eisberg, ABC4 WCIV Sports,  Sam Skardon,  local Baseball enthusiast!
Meet a number one fan of THE YANKEES!  Write a new Baseball themed song with Gracie and Lacy!  It's all about our new Baseball Cookie!
 Movies to include:  The life of Larry Doby and Jackie Robinson—both documentaries about their contributions to the breaking of the COLOR LINE in 1947!  Did you know that Larry Doby was from South Carolina?  That Bill Veeck recruited him in 1947 to play for the Cleveland Indians! There is a Doby mural at The Riley Stadium.
OUTCOME:  those that wish to play ball!  Will. 
Those that wish to take lots of photos and shoot videos of the game, WILL!