STEM – here we come, and we are not talking about flowers!
N. Hollywood High School – wins 1st Place in Open Division at Cyber Patriot!
Washington, DC  March 29, 2014
Science, Technology, Engineering and Math have become one of the key educational  focuses in schools across our nation.  Jobs are going unfilled that require this type of background and training.  While so many of our youth are "tech savvy" , often the math and science and engineering are not embraced in order to secure the training necessary to fulfill these jobs.
So why are the "backpackers" interested?  Well, these "STEM" educated youth are also going to have to write, right?  Read on!
We just spent time with the US Air Force at the Defense Media Activity at Ft. Meade, Maryland, and then at the US Air Force Public Affairs at the Pentagon.  Both stops we saw technology and science at work, and met Airmen who were trained in all the STEM elements.  We visited the control room of the broadcast facility and observed as a 30 second announcement was produced and learned about the "package" and then the "donut".  We watched a multimedia designer make "magic" with video and then insert into a magazine on line.  We met a former Thunderbird pilot, who confirmed that in order to fly a F16,  you have to have studied much of the STEM curriculum.  And, all of these people who spent time with us – LOVE their job.  So, we can assume then that a STEM education is a good.
As we move ahead in these next few months, our backpackers will be out gathering information, interviewing, writing stories and taking photographs and shooting short videos of individuals, companies, organizations that wish to share how their products or manufacturing of products require an individual with a STEM education.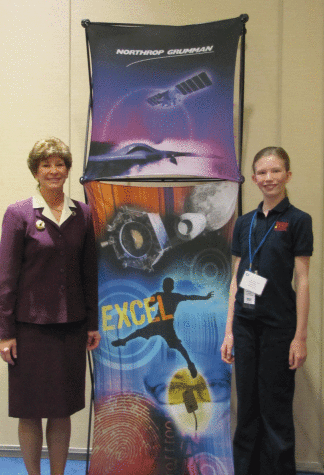 We began our journey at National Harbor, and visited the Air Force Association's Cyber Patriot's National Competition Finals.
Here Skylar, one of our backpackers, spent time with the sponsors learning more about this competition, and had the chance to sit down with one of the youth from the N. Hollywood High School that had made it to the finals. So how did she know that Henry a member of the team, shown here with Skylar,  from the N. Hollywood High School team – Azure, would win first place in the Open Division?  They DID!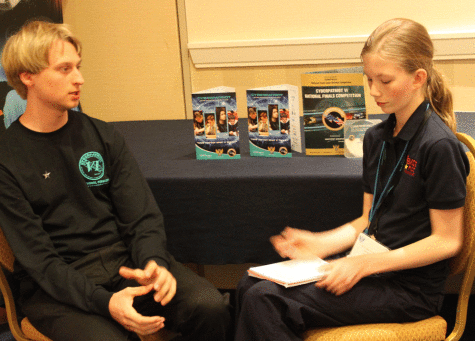 She also met the first group of CYBER GIRLS from Eleanor Roosevelt High School!  They are planning to compete next year.  We learned of WIT – Women in Technology and can't wait to see what happens next with their efforts.
STEM – A Backpack Journalist publication is to go to press in June, 2014!
Expect to see:
What's a Harley got to do with STEM? (we visit and report from a Harley Davidson Dealer!)
 So, what about the tread design on that Michelin Tire? (we visit a Michelin plant)
The Flight Academy, education of board USS Yorktown. (Patriot's Point, Charleston, SC)
Paddling the backwaters, oops marine science! (Wambaw Blackwater Creek)
Fly that bird (Thunderbird, that is!) (Backpackers attend a Thunderbird demonstration)
A simulator that rocks! (Backpackers report on various simulators)
And more to come as the backpackers continue to research and reach out, write and then publish.
Writing is important right?
Our full color 9 x 12 portfolio book, and "E" book will be available end of June!
for more information, 843 582 2794  [email protected]  (program manager)