What's a Harley Davidson got to do with it? STEM that is~
Charleston, SC
Low Country Harley Davidson hosted tonight a "Boot Camp".  "Peaches", other wise known as Ms. D,  decided to attend so that she could get a quick view,  of what was ahead for a group of young people from the Charleston County School District visiting soon,  as apart of their Little Bull Dog Camp at  Burke High School.
There were SIX stations set up around the showroom and shop area.  Those present rotated from each station learning all about the motorcycle, The Harley Davidson!  Back in 1981, it was decided that the mechanic would always "Keep the eagle flying", and we don't mean a bird, but a sleek, chrome and shiny, well-designed  motorcycle, with an all American sound!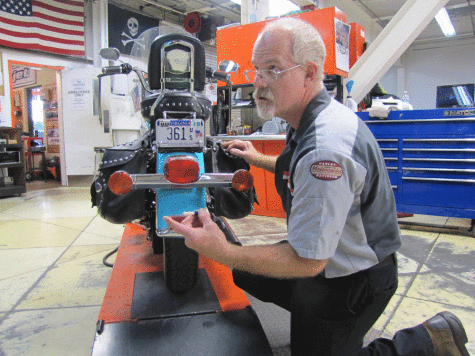 So, mechanics who work on the Harley Davidson are the best that there is!
We went into the shop area where Mike,  shared with us a check list that they work with, as each time a Harley Davidson bike is brought in for a check-up. There is a tool that is used to check the tread on the tires.  Then, we headed over to the Parts Department with over 8000 products.  We learned that while Harley Davidson is designed for a certain height and weight, this department helps customize a Harley Davidson  to be the exact size of the riders build and weight.  Even saw lots of fringe to hang off the handle bars.
It was the picking up of the bike that was intriguing.  The bike was only 500 pounds!  This action required the use of the strength in the legs and buttock and leaning into the bike.  We were shown how to place hands on the handlebar closest to the ground and on the back area,  up the bike went!
Sales and the merchandise area was such a surprise!  Great looking branded Harley Davidson and practical merchandise, that also provided an incredible amount of safety for the motorcycle rider.  Leather jackets designed to deal with the air flow coming from around the windshield, and ergonomically correct., with extra padding or "armor" at certain areas of the upper body (elbow and back of neck).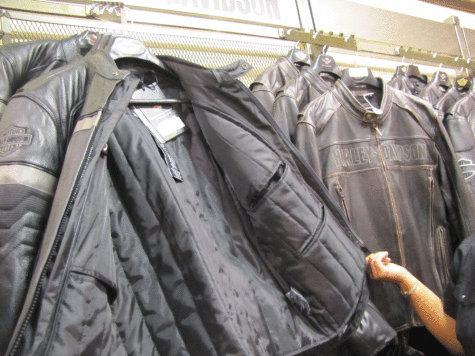 And, there was this motorcycle sitting there and a t-shirt that said:  "I got mine".
Coming soon…is the "Street", and it's designed and built low to the ground, and for people just like "Peaches."  This motorcycle is used to teach motorcycle safety, and seemed just perfect for a ride.  What a great feeling it was to sit upon this Harley Davidson and then to turn it on, and place one's hands on the handlebars, to "rev" up the engine and to hear the rumble of the engine and sounds that are apart of our American culture!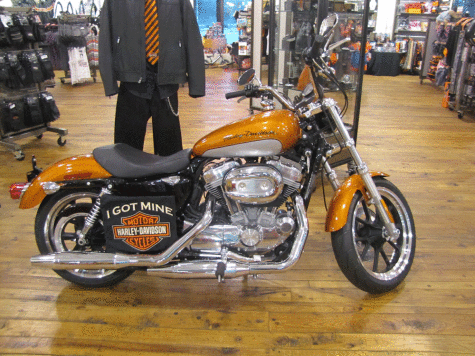 So what's this STEM all about?  Tonight each station at the Low Country Harley Davidson showroom provided us with educational information, and in doing so, STEM appeared.  Science, Technology, Engineering and Math applications were everywhere!
It takes knowledge that one learns from all of these  subject tracks to design, build, purchase, take care of and ride a Harley Davidson.  So tonight "Peaches" went to boot camp to check it out, and soon, a group of young people will also attend the Boot Camp, and be challenged to find at each station the STEM application, and then write and report for the A Backpack Journalist publication coming out soon.
So again, what's a Harley Davidson got to with it?  STEM that is?  Everywhere and everything!
Signing off now so "Peaches" can go off to sleep dreaming of the "Street" , a black leather jacket designed with the body in mind, and the freedom one surely feels when riding a  Harley Davidson.