What's your story – now in the A Backpack Journalist curriculum set.
"What's your story?" New storytelling module now included with the Curriculum!
ATLANTA, GEORGIA December 16, 2013
"What's your story?"  developed for youth 12 – 18.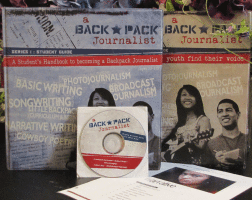 It's not just your name and where you live, who your parents are.  It's a session of open sharing of who you are with someone you do not know.  It's a set of quick interview questions.  Some that may seem a bit silly – like "If I could be an animal, I would be…", to what do you dream of becoming in the future?.  In a group of youth, it's a great ice-breaker.  If your group of youth have grown to build cliches within, it also works well to open those cliches, as youth get to know others that previously they may have avoided.  (Note:  our instructors pair up the youth with someone within the group that they do not know.)
This complete set of curriculum includes: Writing ( Narrative, Basic Journalism- reporting, Broadcast), Photography, Song Writing, Cowboy Poetry and Little Backpackers.  Backpack Basics includes:  "What's your story" and also "Photography Composition – shooting for the moment".
$399.00 for the set, includes a DVD, and may be reproduced for a classroom of upwards to 40 youth without further licensing fee.  For classrooms/schools with more than 40 youth, a bulk rate is offered.  Please call 404 314 8007, or [email protected].
Leave a Comment