Why Pantomime?
Hello to all – as we are ending the last week of our Summer Camp Experiences, we have been asked – why Pantomime was included in our sessions, and also Charlie Chaplin's  Cinema Arts Film Collections. 
Lots of fun,  and our short films share it all. We thank the SC Port Authority, The RIverDogs, Stan Foxworthy Photographer,  Brad Davis/Autometrics/Porsche Racing Team/Low Country Model A's and MINI COOPER, and Chef Ross, the City of Charleston – from Old Exchange and the Powder Museum, Byrd's Cookies, and Mayor Joe Riley's Waterfront Park.  FOUR weeks – from start to finish!
  .
Give this thought.
We are living through the COVI9 Pandemic, the ending of a "war"  so it would seem that today is very much similar to the early 1900's , following World War I, and the Flu Epidemic. It was Chaplin's funny films that helped to heal all – worldwide, helping people smile again.  He in fact wrote the song:
Smile 
 "Making the World Smile Again!!"
has become our "theme".
Pantomime is a form of non-verbal communication, emotions and entertainment combined with body movements, often music.  Research has shown that children who have a hard time in verbal communication, prosper with Pantomime.  We use the book –
BE A FRIEND,
as a valuable resource in our classroom  (Salina Zoon -has a wide assortment of books also)  This book is found throughout the CCSD Media Centers.
August 27, 2021 – Toni Bowers, PhD from the University of Pennsylvania is joining us for an early evening Chaplin presentation. (By zoom is COVID19 increases) We were introduced to her by the Charlie Chaplin Office in Paris, and considered an authority on Chaplin,  as someone who could consult with us as we study Pantomime and Chaplin's works.  Her CV is found on the University of Pennsyvania website.
Each week Hester Kamin joined us via ZOOM, with a training focus on the themes we had each week. She lives in Naples, Florida and is an Arts Educator and  a Theatrical Arts Trainer and Performer.  The daughter of Dan Kamin, the consultant to the film CHARLIE CHAPLIN – and to Robert Downey, Jr.
The Chaplin Office in Paris gave us permissions and guidelines to follow and use of Chaplin's funny films, his movements and images.  Our plan is by 2022, to have  low country teachers and students involved, as we assemble a CHAPLIN FILM FESTIVAL here.
We have Toni Bowers support, and volunteered her PENN Grad Students to assist. She has become our "Coach", and she is seeing the benefits to bringing Chaplin's Cinema Arts to younger students. The SC Arts Commission has awarded us a grant to continue our focus on training youth through 2021-2022.
So far we have a nice group of students who have practiced a "happy" opening.  It is uploaded now to our vimeo channel – Link here.  Keep in mind it was their 2nd try.  Going forward, we will be offering these video messages on Social Media.  To date, we have had several requests from family and friends of young people facing serious illnesses.
More soon – as we will gather on
August 8 at FIRST DAY with 
with a group of MINI MIMES!  Shown here Marley and Irish met Mayor Teckleb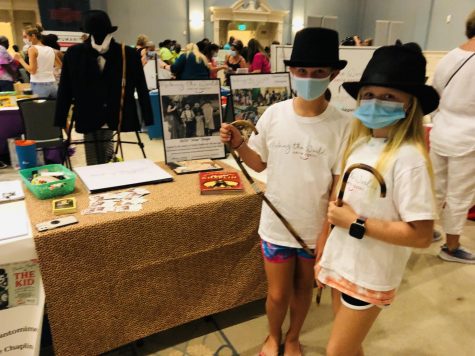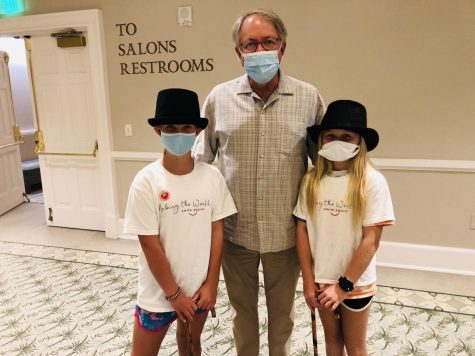 erg!
Then with Toni Bowers on August 27, 2021.