Cowboy Poetry by Brandon Hall Middle School Students and a few friends!
A night of lively poetry, all telling stories of the American Cowboy culture.
ATLANTA,GEORGIA  December 16, 2013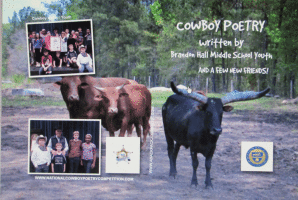 Friday, December 6, 2013, twenty two students took the stage at Brandon Hall School to recite their original Cowboy Poems.  Back in August at the beginning of school, Karen Vaught, the Middle School Principal, invited in a team from A Backpack Journalist to work with the incoming and present students in a "What's your story" and Into to Cowboy Poetry day.
The outcome was a stage filled with youth who recited to an audience filled with parents and school teachers!  On hand was Jerry Warren, Georgia's Cowboy Poet.  He arrived early in the afternoon to help each young person learn a few tips about public speaking.  Jerry is a rancher in South Georgia, raises cattle and trains horses.  He has been writing Cowboy Poetry for twenty years.
All of the poems are now in the book:  Cowboy Poetry by Brandon Hall Middle School Students and a few friends!  It should be noted that Grace from the Atlanta Girls School and Hayden, a member of FFA in Thomaston, Georgia (Upson Lee Middle School) joined in as they had written Cowboy Poems for another event that had been cancelled.  So they were invited to join in.
This book is now in our online store for $25.95.  With each book, you receive an E Book that will load onto any EREADER either on your smart phone, or laptop or ereader.
Please note that A Backpack Journalist donates $5.00 to the Brandon Hall School for each book sold.  This will help fund an after school program that supports area youth in their Literacy Skills, using project based learning to engage each youth.  The project based curricula? Its Cowboy Poetry, combined with "What's your story" and a bit of song writing.
Cowboy poetry enhances writing skills in other genres. It correlates with Social Studies and
Research curriculum, correlates with Language Arts and Creative Writing.  Cowboy Poetry helps develop communication skills, and provides students with the opportunity to recite before their peers and offers up the opportunity to explore an era of history that is fast fading into the past. This is an art form that brings out their creative side.It enables them to hone their skills of reading,memory, research, writing, self-expression and communication. It improves their confidence, poise, recitation and public speaking skills.
Leave a Comment